Need advice on staffing your business? Looking for tips on how to hire? You've come to the right place! Check out a selection of our hiring tips for employers below. We're proud to share our extensive knowledge about all things staffing, recruiting, and hiring.
Need more help attracting and retaining talent? Contact us today for a personal consultation by one of our talented Account Managers located across the US. We know you'll be pleased with the Artisan difference.
Read on to see our top hiring tips and references for employers, all available for free online.

Not sure what you should be paying your creatives? This handy guide is your "Cliff Notes" to salary guides. It breaks down digital, creative, and marketing salaries by cost of living and city based on three market tiers. Download your copy here.

This free, downloadable PDF guidebook will walk you through everything you need to know about attracting, hiring, and retaining talented freelancers. From why creatives choose to freelance to busting myths, hiring quickly, and what to pay – this guide has it all. Download your copy today.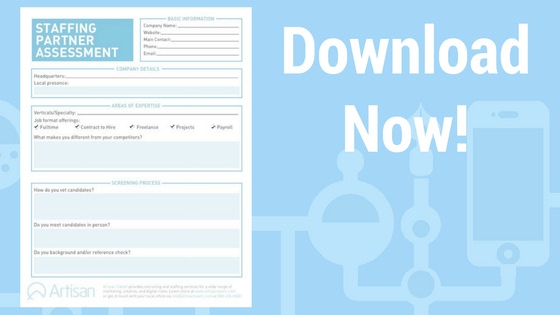 This free, downloadable PDF will help you access and compare different staffing partners. Print it off as many times as you like and fill it out during phone screenings and in-person interviews with different recruiting agencies to compare companies and identify the best match for your business. Download it now by clicking here.


Looking for help writing job descriptions? This page lists types of positions our clients commonly ask us to fill and includes role requirements and suggested software proficiency for potential hires.
This 10-part video series gives a quick overview of Artisan Talent and our most popular talent types. It's great for a refresh on common digital and creative roles like Presentation Specialists, Web Developers, and Digital Strategists.
Other Posts You Might Like:
Frustrated by the quality of talent you're attracting with your freelance job postings? Here are three mistakes companies make when seeking freelancers.
Ready to start the hiring process? Need to create a team or add to your existing one? Before you post that perfect job ad, take stock of these suggestions to make sure you end up with the right fit.
Hiring freelancers can be tricky business, but here you can arm yourself with the right questions to ask, discover what to look for, and learn all you need to know to make sure you select the right person for your project.
Ready to Start Hiring?
Contact Artisan for help with all your staffing needs, large or small. We have a team of dedicated professionals ready to find your perfect talent match. Click below to get in contact with your personal, dedicated Account Manager.
Ready to Work with us?