Interactive Design
Even if you attend one of the best interactive design schools in the country, there are some lessons that can't be taught in a classroom. To master these important concepts, you must experience things for yourself or learn from the experiences of others.
Explain Your Work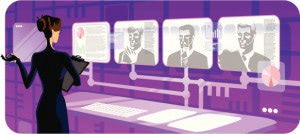 Even if you think that a piece speaks for itself, it's always wise to offer the client a few sentences of explanation. Sometimes, a client needs to hear the story behind a piece of work before he or she can fully appreciate it. When describing your work, let the client know why you created the piece and what its purpose is. Doing so will clear up misconceptions and improve client understanding.
Work with Friends
Although some artists may prefer to work on their own, working with other people spawns creativity. Don't be afraid to share your work with others and let their thoughts and opinions influence you. Furthermore, keep in mind that the strongest pieces are born out of strong relationships. Even if you are collaborating with the world's best creative art director, your work won't reach its full potential if you and your colleague don't get along.
Keep Learning
Interactive design school may have taught you what you needed to know at the time, but the art world is always changing. To remain competitive as a professional, you must stay on top of new trends and evolving technologies. No matter how much time you have spent in the business, never stop seeking new knowledge.
Experience and Dedication Lead to Success
Few interactive designers become successful over night. If you want to build a strong, lasting career, you need to put in the work. The more experience you gain, the better you will be at your job. Remain dedicated to your career as a designer, and you can accomplish anything.
Be Passionate
As a designer, you need to be able to "sell" what you create. If you are passionate about the pieces you make, your love for you work will bleed through to your clients and influence their opinions. When speaking about your work, don't be afraid to let your passion show. Be articulate, convincing and persuasive at all times.
Learn from Others
Being unique is important, especially when your work is creative in nature. However, that doesn't mean that you can't learn from the work of others. Pay attention to the strategies, skills and traits of your mentors and try to incorporate them into your own career.
Promote Yourself
Even if you are the most talented designer in the industry, you won't get any jobs if clients don't know you exist. Learn to promote yourself by joining organizations, being active in the design community and using social media and other online tools to display your work.
Artisan is an expert in all aspects of interactive design, from skill improvement to creative job placement. Contact us today to learn more.
Amanda M is a freelance writer available on WriterAccess, a marketplace where clients and expert writers connect for assignments.