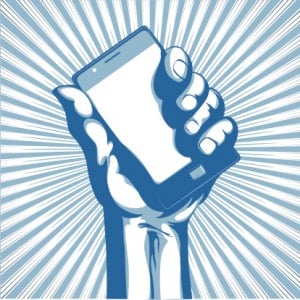 Since the proliferation of smart phones, mobile retail has been on the rise, and it has only grown as the field of mobile devices has expanded into smarter MP3 players, ereaders and tablets. In June 2013, interaction with online retailers on mobile devices overtook interaction with online retailers on laptop and desktop computers for the first time, according to digital analytics company comScore, as reported by Internet Retailer, which means even those consumers who may not make purchases through a mobile device expect a mobile-friendly experience.
As mobile retail continues its upward trend, companies that adapt will rise to the top, while companies that fail to adapt may find it more difficult to attract new customers. A large part of this adaptation is in marketing. Many companies have failed to utilize mobile marketing tools in the most effective ways, though, leaving holes in their marketing plans that act as slow leaks. The first step in fixing a leaky mobile marketing plan is to find and patch the holes. Only then can you start to focus on raising the flag and possibly changing course.
A Mobile Website is a Must-Have
If your website isn't mobile-optimized, you need to get it there stat. You may have a website that works brilliantly on a desktop or laptop, that generates an incredible click-through rate and results in plenty of sales, but that same site may actually be losing you sales when it comes to mobile devices.
With the tools available, there is no excuse for your business not to have a mobile website, and there are two simple ways to make it happen fast. The first is to have two separate websites – one desktop, one mobile – which you can accomplish by choosing a mobile theme and building a new site for your business. Just make sure it's similar enough to the desktop website to be recognizable as one and the same.
The second way to create a mobile website is to build a responsive website. Mobile developers have created skeleton frameworks that provide the necessary tools to build websites that automatically scale to fit any device, which means the same website will look good on either a desktop or a smart phone. Using these tools do require some web-design know-how, though, which can make it tricky for business owners.
Advertising in a Mobile World
Once you have a mobile website, which is the most basic part of your mobile plan, but not necessarily the most important, you can begin to truly market to the mobile crowd. HubSpot provides insight into what might be wrong with your mobile marketing as it stands, with two important takeaways:
Mobile marketing should be local.
Mobile marketing should be social.
Local
The local aspect is where mobile marketing really has an advantage over other types of marketing. Mobile devices are trackable, and advertising strategies should be built with this in mind. Make sure your business is on all the popular map sites, like Google Maps and MapQuest, so you are findable by consumers, and opt for location-based advertising so ads are shown to those people who are already near your business.
The best thing about the social aspect of mobile marketing is that consumers do a lot of it for you. If you're not on Facebook, customers can't "like" your page. If you're not on Foursquare, customers can't tell people they're at your shop. Be everywhere in the social media world to make it easier for customers to tell their friends about you.
Mobile retail is still on the rise, with mobile commerce sales expected to grow by 16 percent this holiday season, according to eMarketer. As mobile sales rise, so does the need for businesses to perfect their mobile marketing strategies. If you're looking for help with your mobile marketing campaign, contact us today to learn more about creative staffing to meet your needs.
___________________________________
Artisan Talent is a Digital, Marketing and Creative Staffing Firm placing talent in jobs perfectly matched with their skills all over the US.  For available jobs, to submit your resume, or learn more about working with Artisan Talent, contact us here.
Connect with Us
Linked In| Glassdoor| Facebook | Twitter | Instagram | Pinterest