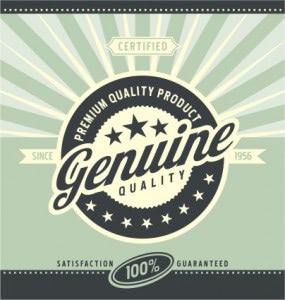 Associating yourself with a brand name can boost your business prospects – even if you happen to be self-employed. Just as large corporations rely on successful branding for their continued success, building and growing your own personal brand can help you achieve greater success in gaining new opportunities throughout the creative field.
Developing a brand isn't something that most self-employed people often think about, especially those who often obtain work as independent contractors. According to recent figures from the Bureau of Labor Statistics, the U.S. workforce is home to over 8,723,000 self-employed individuals. Without a way to stand out from the rest of the crowd, it's easy for your skills and credentials to go unnoticed.
The Power of Branding for the Self-Employed
For lucrative fields such as freelance graphic design, having your own brand name immediately distinguishes you from the untold thousands of people who are likely competing for the same pool of clients. A good brand not only provides a great amount of credibility as far as many potential clients are concerned, it also gives your business plenty of room to expand beyond mere freelancing.
In addition, satisfied clients will easily remember your brand and come back to it again and again. After all, how can you have loyal clients if they don't know who to return to? A memorable and preferably unique brand name can do wonders for recognition and client retention – even something as standard-issue as "John Smith Consulting" is preferable to merely being "Self-Employed."
Why Brand Names Matter
There's another good reason why having your own brand name does wonders for your creative prospects. Simply using generic terms like "self-employed" or "independent contractor" is a great way for your profile at places like LinkedIn to end up being overlooked. On LinkedIn, anyone listing their company as "Self Employed" or "Freelance" could wind up with their information aggregated in a page created by a LinkedIn member.
Instead of standing out, your profile will instead end up aggregated with hundreds of other similar profiles in a company that's not really a "company" at all. That can put you at a disadvantage when it comes to making yourself seen and known to potential clients. Naming and branding your freelance design services creates a greater amount of visibility on LinkedIn and other professional social networking sites. By breaking away from the "self-employed" pack, you'll have a better opportunity of cultivating your freelance work into a viable business.
Solo or Collaborative?
Branding yourself and your business is no walk in the park, but it's not as difficult as you think. A name that works for freelancing solo might not work if you're developing a team of fellow designers. Using your own name as a brand tends to attract clients in search of a personalized experience, while larger clients go for bigger names.
Developing a brand name is just one great piece of self employment advice that's sure to bring you plenty of opportunities in the future. Contact us today to learn more.