Making Your Website User Friendly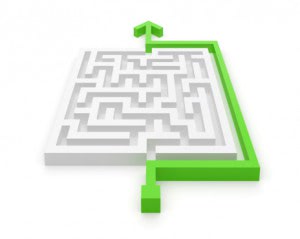 Perhaps due to the increasing use of mobile devices, or maybe thanks to the general speed at which consumers expect to be presented with information, the web is no longer a place for clutter. It must be user friendly. Any extraneous images or text are a hindrance as viewers quickly parse pages and within seconds decide whether they will bounce or read on.
Three-Clicks?
One commonly espoused guideline on the subject of design is the "three click rule"–it implies that no important piece of information should ever be more than three clicks away for the user. While this 'rule' has been challenged (and, to some extent, debunked), the concept is solid. Provide the information that readers are most likely in search of in a highly visible location.
Rise to the Top
Try to keep the most relevant information on your site "above the fold"–the area that a reader can see without having to scroll down. This makes it easier to present your call to action right away. A reader should be able to enter your site and see the most pertinent information immediately; otherwise, they may lose interest and navigate away.
Be Ruthless
When it comes to content, less is more. Presenting readers with a huge wall of text often leads to the dreaded TLDR (Too Long Didn't Read) Effect. Try to break your selling points up into columns, bulleted lists, or otherwise visually distinguish what you have to say. Be merciless when it comes to cutting unnecessary content.
Stay Focused
Every element on your page should serve a single purpose: honing reader attention on your call to action. Minimize distractions and use graphics to strengthen this focus. Create a navigation system that is as simple as possible and leads users through a logical progression to your end-goal, whatever that may be.
Use Consistent Style
If your site wasn't built using a clean stylesheet and good code, no amount of fussing will give you the streamlined operation you want. Quality .css will provide you with a consistent style and easy-to-edit page. It also lets you change graphic elements across your entire site by altering just a few lines of code.
Consider investing in a ready-made template from a reputable site. Make sure that their installation offers an easy way for you to edit content yourself down the road.
Outsource It
While tackling problems on their own may be in the very nature of a small or medium sized business owner, this is one area where outside help is worth its weight in gold. A professional web design company can help you restructure your pages for a better viewer experience.
If you don't have the resources to have your whole site made over, consider hiring a consultant to perform 'triage' fixes and make your site more user friendly. The one-off nature of a revamp makes this an excellent freelance web designer job–try looking at profiles on agency websites, where you can verify the designer's experience and even see ratings of their other work.
Helena L is a freelance writer available on WriterAccess, a marketplace where clients and expert writers connect for assignments.
___________________________________
Artisan Talent is a Digital, Marketing and Creative Staffing Firm placing talent in jobs perfectly matched with their skills all over the US.  For available jobs, to submit your resume, or learn more about working with Artisan Talent, contact us here.
Connect with Us
Linked In| Glassdoor| Facebook | Twitter | Instagram | Pinterest