Email Marketing Still Better Than Social Media Marketing
Many newly-minted graduates looking for a job in marketing or seeking web design careers see email marketing as an Internet dinosaur compared with hip, chatty social media. But it's a dinosaur that works—and still works better in many ways than social media (in spite of the hype). In fact, a recent Monetate infographic published by MediaBistro shows that email marketing hauls in an impressive 10.91 percent "add-to-cart" rate over social media, which garnered a paltry 2.28 percent.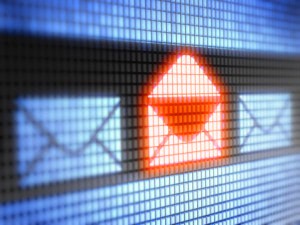 So why does email still get better conversion results than social media? Consider this:
The Long Arm of Email—According to KISSmetrics stats, there are three times more active email accounts out there (nearly 3 billion) than Facebook or Twitter accounts. And the posts on those social media powerhouses only amount to about 0.2 percent of the total amount of emails sent per day. And no, that statistic does not include spam! Clearly, the reach of email is still entrenched and enormous compared with social media.
It's Personal—Facebook and Twitter have a very long way to go in the ad-personalization department. Email lists, however, are usually opt-in. These email lists remain more stable in their quality over time and they can be analyzed and customized. Customers who have willingly entered into an email relationship with a business are much more likely to click on and open an email (and at least consider a personalized email offer, rather than click through on a poorly targeted ad for snail extract cream on the side of their Facebook News Feed). And if you have good analytics on your side, you can focus, target and customize emails directly to your customers. That approach solidifies your relationship with them and enhances your chances of conversion.
Better Visibility—With social media there is no guarantee your posts are going to be seen, even by people who have voluntarily "liked" you. Your posts may be drowned in a matter of moments by cat pictures or the latest meme. It's also possible that the mysterious algorithms Facebook uses to decide what users see could hide your posts anyway. Even if a user deletes your email before opening it, he or she has still seen the subject line of your email. If you have a catchy subject line, it increases the chances the reader may open up and click through.
More Room for Creativity—With Twitter, you have only 140 characters to make your case. Brevity may be the soul of wit and a good Haiku, but it doesn't allow much wiggle room for creativity and personalization for people with web design careers. While a graphics-heavy email can turn off readers, a well-designed graphic element included with a personalized offer can lure more genuinely interested and quality email leads to click-through than a cryptic hashtag out on Twitter.
None of this is meant to discourage marketers from using social media in favor of email marketing altogether. In fact, social media can round out a solid, creative, interactive marketing campaign. Going back to the statistics mentioned at the beginning, instead of having just 10.91 percent or 2.28 percent add-to-cart rates, why not enjoy 13.19 percent ROI by combining the two? Add search to that equation (with smart SEO) and that increases the returns even more.
The bottom line: relying on social media alone for conversion is a losing strategy that will have you out looking for a job, simply because it does not get the results that email still does. So make sure, as you hone your marketing strategy in the future, to give email marketing the weight it deserves.
Andrea M is a freelance writer available on WriterAccess, a marketplace where clients and expert writers connect for assignments.
___________________________________
Artisan Talent is a Digital, Marketing and Creative Staffing Firm placing talent in jobs perfectly matched with their skills all over the US.  For available jobs, to submit your resume, or learn more about working with Artisan Talent, contact us here.
Connect with Us
Linked In| Glassdoor| Facebook | Twitter | Instagram | Pinterest