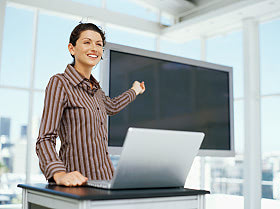 In order to become a truly successful Interactive Presentation Specialist, you not only have to think outside of the box, but you also have to be willing to live your entire professional life outside of it. What exactly does this mean? It means that you have to look at innovation as a daily goal and not just something to strive for once in a while. You have to be willing to adopt the kind of daring that'll get you noticed by creative staffing recruiters eager to scoop up unique thinkers, as well as by the high profile companies they represent.
So what's the first step to escaping the confines of the box? The answer's simple in concept, if not tough in practice: embrace the unconventional. If there's anything about your past experiences as an Interactive Presentation Specialist that screams predictable, you might have to take drastic measures to break away from boring conventions.
• Deliver a lean, mean presentation
If you're given an hour, shave your time down to 45 minutes. People love brevity, especially when they're a captive audience. Your ability to deliver a trim presentation that hits on all points and still leaves your audience an opportunity to let it all sink in before having to race off to the next important meeting of the day is critical to your aim.
• Infuse your presentations with wit
Just because your audience is dressed in business attire doesn't mean they don't laugh or appreciate well-timed humor. Why so serious, anyway? Your audience will appreciate the occasional joke more than you can imagine. The trick is to keep it in context and good taste.
• Take risks
This isn't an invitation to go insane, but it can be seen as encouragement to take-off-the-wall approaches that people don't expect. Like launching your presentation by telling a story that captures your audience's attention and primes them for the nitty-gritty details of your presentation. Or incorporating physical props, as long as your audience is in-person. Just remember both the story and the prop have to be contextually tied to your presentation, otherwise they'll come off as distracting.
Above all else, you have to be willing to stretch yourself constantly by exploring new methods and seeking out inspiration that could possibly lead to your next great idea. If you're not at least trying to incorporate state of the art software and methodologies into your interactive presentations, you're stagnating. And there's no worse fate that could befall the professional Presentation Specialist than that.
___________________________________
Artisan Talent is a Digital, Marketing and Creative Staffing Firm placing talent in jobs perfectly matched with their skills all over the US.  For available jobs, to submit your resume, or learn more about working with Artisan Talent, contact us here.
Connect with Us
Linked In| Glassdoor| Facebook | Twitter | Instagram | Pinterest