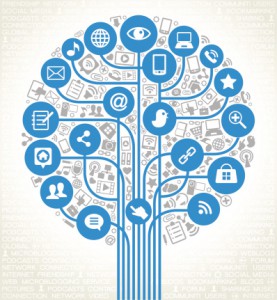 While business owners and freelancers alike have discovered that blogging online is a simple way to attract consumers to a website, many have also discovered the downsides of blogging.
Posting to a blog regularly takes time and demands a limitless supply of topics. The thought of coming up with something to write about on a daily basis keeps many small business owners away, even if they believe blogging might help them attract more business.
Keeping up with a blog, though, can be as simple as keeping up with your industry. If you are willing to put in a little time and effort, and know where to look for topics of interest to your consumers, there's no reason you can't run a quality blog that attracts readers and keeps them entertained.
How to Write A Business Blog
Finding Ideas: Read Trades and Other Blogs
When it comes to creating an interesting blog in your industry, you are at a distinct advantage. As an industry insider, you know what interests you, the kind of content you would stop to read if you were flipping through a magazine. This is exactly the kind of content you want to offer your readers.
No matter what industry you work in, there are likely a few trade magazines or websites. There are probably even a few people blogging about your niche. Subscribe to the trades. Follow the blogs. They provide an excellent source of industry news and information, and should stimulate some ideas of your own.
Instead of regurgitating content in your own words – an uninteresting and ethically-shaky course of action – determine what you think about the topic at hand and write your opinion. Think about how news in your industry affects your customers. That's what they want to know.
Look for Topics in Life
If you hand someone a piece of paper and ask him to sit down and brainstorm a hundred different ideas, he is probably going to struggle. At the very least, it will take him a while to come up with a hundred different ideas in general, let alone a hundred ideas focused on one specific subject.
That same person has far more than a hundred ideas a day without thought. That's what you need to remember as a blogger. Every day you will have new experiences, and some of those experiences will give you ideas for blogs. When it happens, write it down. Don't think, "I'll jot that down later." Keep a running list of ideas as you have them.
If someone asks you a question you can answer with some authority, that's a good blog topic. The person who asked is probably not the only person who wants to know.
Curated Content
While content curation is a hotly-debated subject, there is no denying that curated content can be a good place for bloggers to find new ideas. Content curators pull information about a topic into a central place, where readers can easily find and share it. Searching for content that is relevant to your readers and sharing it on your blog can be a good way to continue updating when you're low on ideas of your own.
When using curated content, attribution is the difference between sharing and stealing. Write a short introduction about the piece in your own words, mention the content writer and source in your post, and provide a link to the original content. If you are going to borrow someone's words, you should at least give that person a boost in traffic.
A blog that brings visitors to your website and increases your sales is a blog worth having, and you can always find qualified writers to create posts for you when all else fails. If you need help keeping your blog updated, contact us today to learn more.
Riley L is a freelance writer available on WriterAccess, a marketplace where clients and expert writers connect for assignments.
___________________________________
Artisan Talent is a Digital and Creative Staffing Firm placing talent in jobs perfectly matched with their skills all over the US.  For available jobs, to submit your resume, or learn more about working with Artisan Talent, contact us here.
Connect with Us
Linked In| Glassdoor| Facebook | Twitter | Instagram | Pinterest