Should I Go Digital?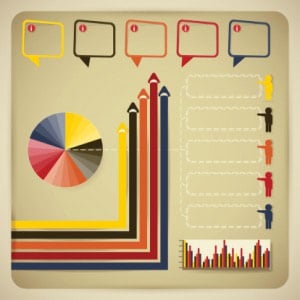 The world of professional design has undergone some radical changes in just the last ten years. Due to the continued growth of the internet and the explosion in popularity of social media sites, businesses have become dependent on experienced design professionals to help them leverage the immense exposure that can come as a result of a well crafted web presence. If you are a traditional print designer, does this mean you're destined to dinosaur status? Not at all. Especially not if you take the steps necessary to transition your skills into the world of digital design.
How Can I Go Digital?
To go digital isn't an overnight process, but don't let that scare you away. Besides, anything worth doing is never easy. It can, however, be quite profitable. And if you teach yourself to become as proficient in digital design as you are in print design, you will double your earnings power. Here are some valuable clues to get you started in your new digital education.
Online tutorials abound. In the irony of all ironies, the explosive growth of the internet – the very phenomenon that an awful lot of print designers have demonized as something that could jeopardize their livelihood – has provided a slew of invaluable learning tools that you can take advantage of. Simply typing the words "digital design tips" into your search engine of choice will return more results than you'll know what to do with, leaving you with a new quandary: where to begin? That's a much better predicament than having zero options.
Get hands-on experience. Some people (if not most) learn a lot faster by doing than by reading. If this describes you, consider your options. If you work for a company that has a department devoted to digital design, you can spread your wings without even leaving the nest. Seek out opportunities to help out or cross-train in those departments whenever possible. If this isn't available, consider a part time internship with a digital design company. Granted, you won't get paid for an internship – but the wealth of information that you can take away from the experience will be worth a lot more to you in the long run.
Subscribe to trade publications. There is a wealth of information available to professionals at all levels on digital design, from absolute beginners to veterans. This information can be found on a variety of trade publications. In addition to magazines and virtual publications, you can subscribe to literally dozens of blogs that offer general tips, detailed advice, and step by step instructions on how you can translate your print publication skills to the digital sphere.
Print Isn't Dead – The Good News
Looking at projections from the Bureau of Labor Statistics could be cause for any print professional to experience a moment of panic – under "printing and related support activities" you'll find that overall printing related occupations are expected to drop by six percent by the year 2020. But before you make any rash decisions about jumping ship and changing careers, it's important to consider the results of recent surveys that have taken the pulse of the printing industry. These surveys indicate that the print industry is alive and well and thriving, despite projections that would indicate otherwise. Yes, there are plenty of changes taking place – the rise of digital marketing and the continued growth of the e-book industry are just two examples of how things are changing – there's still plenty of print design work to be found. For evidence of this, just take a look at recent information shared by Graphic Design USA.
So don't take up web design because you think you have to – it's another skill to add to your resume, and you may even have some fun with it.
For more help on transitioning from print design and to go digital, tips on web design for small businesses, or to stay up to date on current web design trends, become a member of Artisan Talent. Contact us today to learn more.
Vince F is a freelance writer available on WriterAccess, a marketplace where clients and expert writers connect for assignments.
___________________________________
Artisan Talent is a Digital, Marketing and Creative Staffing Firm placing talent in jobs perfectly matched with their skills all over the US.  For available jobs, to submit your resume, or learn more about working with Artisan Talent, contact us here.
Connect with Us
Linked In| Glassdoor| Facebook | Twitter | Instagram | Pinterest