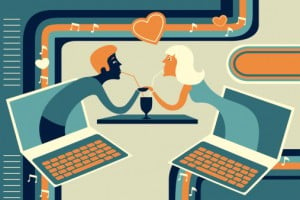 As social media has continued to evolve, more businesses have learned to use it to promote their brand. One of the newcomers to the field of social media is Google Plus. Although Google Plus hasn't overtaken Facebook yet, it does have some clear advantages for companies hoping to build relationships with consumers. One such advantage is Google Hangouts.
About Google Hangouts
Unlike Facebook, which only allows one-on-one video conversations, Google Hangouts can accommodate up to 15 people at one time. In addition, you can open the conversation to an unlimited number of viewers who can watch the conversation but won't be able to participate in it. It also allows you to save a copy of your conversation, which can be uploaded to YouTube for others to see.
Benefits of Google Hangouts
Google Hangouts can be helpful to your business in many ways. If you have employees working together on a project, for example, they can use Google Hangouts to collaborate face-to-face when they aren't at the office. Google Hangouts can also help you to connect coworkers from different offices who aren't likely to meet in person.
Perhaps the most exciting prospect for Google Hangouts is its ability to connect businesses to their consumer base. Building relationships with consumers is a powerful marketing tool, and Google Hangouts can bring these relationships to a whole new level. With Google Hangouts, your company can conduct face-to-face meetings with consumers about a new product or promotion, facilitate open discussions about the company's products, services or reputation and even hold informational sessions where consumers can learn something useful.
For example, if you own a scrapbooking supply store, you can use Google Hangouts to provide consumers with scrapbooking tutorials. Likewise, if you are a veterinarian, you could use a Google Hangout to teach clients about proper animal care or recognizing the signs of illness. Furthermore, because all of these conversations can be saved to YouTube, consumers can look back at the meeting as many times as they like, and others can benefit from it as well.
If you're interested in bringing Google Hangouts to your business, or if you'd like to hire a web designer for other purposes, Artisan can help. Artisan specializes in connecting professionals, such as those seeking web design careers, with the businesses who need their help. Contact us today to learn more.
Amanda M is a freelance writer available on WriterAccess, a marketplace where clients and expert writers connect for assignments.
___________________________________
Artisan Talent is a Digital, Marketing and Creative Staffing Firm placing talent in jobs perfectly matched with their skills all over the US.  For available jobs, to submit your resume, or learn more about working with Artisan Talent, contact us here.
Connect with Us
Linked In| Glassdoor| Facebook | Twitter | Instagram | Pinterest