Make Your YouTube Channel Pop
Pop is important. Making a client's YouTube channel snap, crackle and succeed in attracting views is helpful in building brand.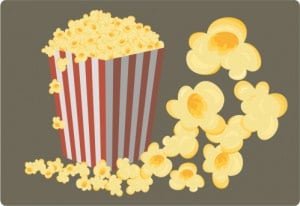 Although page-view and click-through statistics don't completely indicate whether a video marketing strategy is achieving its goal, they do show how many people are knocking on and opening the door to the client's message.
Film editor jobs require more than creating videos these days. To keep great videos from disappearing into the cloud and to retain business, you need to know how to make a YouTube channel pop with great design.
Tips for Design Success
The technology and social media publication Mashable suggests some key considerations in making an opening channel page stand out. They include:
Leading with an attention-grabbing trailer
Creating a memorable channel name and clear description of purpose
Selecting a simple, identifiable icon, and
Designing attractive channel art, such as the banner.
Opening Trailer
Get the hook out. Your client needs to post an enticing opening trailer video to grab viewer attention. Mashable says the best kind is short and gives viewers a clear idea of the kind of content to expect on the channel.
For example, a "Welcome" video leads the channel page for Awesomeness TV — an Internet TV-type station providing news, content and nutty stuff for teens. It shows rather than tells viewers the playful tone of the company's content and highlights ongoing programs.
YouTube Channel Name and Description
Shay and Katilette Butler have attracted well over 1 million subscribers to their YouTube channel, which they describe on its opening page as a "daily video diary" about life in their large Mormon family. Forbes magazine refers to their wacky content as a combination of "cleaned up Osbournes" with a bit of Tool Time.
The YouTube channel began as a lark and so did its memorable yet somewhat unfortunate name "Shaytards." It's a fictional surname for the family that evolved from an initial episode in which the dad, known as ShayCarl, goofs off in a unitard.
Shaytards aside, a YouTube channel also stands a better chance of succeeding if the intent of its name is clear. For example, one channel with solid content but brand confusion is the Penguin publishing company's site for young teenagers and kids. The channel banner says "Penguin Teen," but you can't get to the page by using that term on the internal search engine. Instead, the page's channel name is Penguin Young Readers Group and its opening page lacks any subheads describing the age group for its books.
Recognizable Icons
As Mashable notes, an icon is a valuable "tiny piece of real estate," such as Penguin's internationally familiar logo of a cartoon penguin.
Some icons are spot-on clever, such as the Awesomeness TV logo of a letter A. It's formed by a cartoon of two upside down fingers, which are tied together with a crossbar of string and stand next to a tiny screen that says "TV." It's a cute and effective piece of channel art.
YouTube Channel Art
Single letters often make good logos, such as the majestic white S on a field of burgundy and overlaid with a tall silhouette of a pine tree that represents Stanford University. Stanford incorporates the logo into its banner art showing an attractive campus photo of a stately, colonnaded building with beautiful landscaping.
Banners and other channel art should be designed and coded to look good on an array of digital platforms from computer screens to smartphones, according to Mashable.
But heck with getting the matter of configuration right, most YouTubers don't even create a banner. Instead they default to embedding their logos in a standard black rectangle, which seems a bit like wearing your pajamas in public.
Spit and Polish
Creating solid content — whether homegrown or slickly filmed — and designing a channel page that is well defined are necessary for marketing success when building brand on YouTube. Applying a bit of spit and polish to a channel page's design and wording is another essential video marketing strategy.
Contact us today to learn more how to shine up your prospects when looking for film editor jobs.
Alicia R is a freelance writer available on WriterAccess, a marketplace where clients and expert writers connect for assignments.
___________________________________
Artisan Talent is a Digital, Marketing and Creative Staffing Firm placing talent in jobs perfectly matched with their skills all over the US.  For available jobs, to submit your resume, or learn more about working with Artisan Talent, contact us here.
Connect with Us
Linked In| Glassdoor| Facebook | Twitter | Instagram | Pinterest