Your Journey to Magnet Excellence ®


Hospitals embarking on their Journey to Magnet Excellence ® find the experience exciting, rewarding and daunting. As you prepare your document, you face a number of challenges:
Finding the bandwidth required to finish the project on time
Ensuring consistent voice and proper grammar throughout the written document
Supporting content experts who lack confidence in their writing skills
Creating hundreds of professionally designed graphs and tables with a uniform look
Meeting the ANCC's unique and challenging requirements
Transforming a paper-based document into a polished electronic document
Remember: Only about 8% of all American hospitals earn the Magnet designation each year.
Artisan Talent's Magnet Excellence® Document Team is here to help!
Who We Are

Artisan's Magnet Excellence® Document Team is composed of creative talent who specialize in spotlighting the achievements of Nursing. Our proven track record of helping hospitals achieve Magnet Excellence® recognition makes us uniquely qualified to support your efforts.
What We Do

From interpreting complex Magnet Excellence® requirements to ensuring your content and data are conveyed in a clear, consistent and polished manner, we collaborate with you to deliver a professional electronic submittal—on-time. We offer a complete array of services to support a variety of nursing recognition projects.
Services
Copy-editing
Design
Production
Proofreading
Project Management
Web Development
Projects
Magnet® Documents
Nursing Department Annual Report
Beacon Award applications
Nursing Spectrum award applications
National Conference abstracts, posters and presentations
Site visit prep materials
Magnet Excellence® Case Studies
"With an endeavor as important as seeking Magnet designation, nurses leading this effort should choose a support team that is as dedicated and invested as they are in helping the hospital cross the finish line. The team from Artisan Talent delivered on their promise."
(Magnet Program Director)
Magnet Excellence ® Case Study #1: An East Coast 550-bed Tertiary Care Teaching Hospital
Problem: 
After years of hard work and preparation, a hospital seeking Magnet designation was just weeks away from the deadline when they received alarming news. The marketing communications agency helping the hospital finalize their submittal notified the Magnet Program Director that the firm was unable to complete the project. With the clock ticking, the hospital's Magnet Program Director reached out to Artisan Talent for urgent, multi-faceted project support.
Solution: 
Artisan rapidly mobilized a full-service Magnet Team to fulfill client's needs by immediately contacting editing, project management, graphic design and web design professionals that had completed successful Magnet submittals for other Artisan clients. Within a tight timeframe, Artisan's team edited, formatted, proofed and itemized hundreds of documents and graphs. The team's project manager worked closely with each member of the team to coordinate and facilitate their collective efforts. She served as the single point of contact for the client, maintaining communication seven days a week with the Magnet Program Director to ensure the project remained on track to meet the deadline.
After the Magnet Program Director and the hospital's Chief Nurse Executive approved all content, the Artisan Magnet Team's Web Designer worked around the clock to build a seamless, self-contained electronic document with navigation similar to a website. He input more than 600 pages of content and graphs, and created more than 300 live links to supporting evidence. After both the client and the Magnet Team proofed the final product, the hospital approved it for submittal.
Result: 
On-time Magnet Document submittal achieved! With the support of Artisan's Magnet Excellence document preparation team, the hospital submitted their Magnet document to the ANCC by the deadline. In 2019, the hospital received its first-time Magnet designation, considered to be the highest level of honor a hospital can receive for nursing excellence!
The Magnet Program Director was so pleased with the outcome, he used members of Artisan's Magnet Team for additional projects, such as developing educational and promotional materials to prepare the Nursing Team for the hospital's Magnet Site Visit.
Magnet Excellence ® Case Study #2: An East Coast 300-bed Tertiary Care Teaching Hospital
Problem:
Several months prior to the deadline, the Magnet® Program Director at this hospital recognized that the Nursing Department required more bandwidth to complete their Magnet Excellence ® Document on time. Although a large internal team of nurses and administrators dedicated their days, nights and weekends to the project, the team struggled with certain time-consuming production tasks. Hundreds of graphs needed to be formatted, revised and proofed. A thousand pages of content required copyediting for grammar, spelling and voice. Lastly, the entire document had to be transformed into a seamlessly integrated electronic document that would navigate like a website.
Solution:
Artisan's Magnet Excellence® Team, comprised of five copyeditors, three graphic designers and one web developer leapt into action. Like a well-oiled machine, this team coordinated easily with the Magnet® Program Director and one another to create a polished document on-time. Subsequently, the Chief Nursing Officer found the results so impressive that he shared the final product with the entire hospital via the intranet to spotlight the nurses' accomplishments. The Magnet® Program Director then leveraged the lead copyeditor and graphic designer to develop customized preparation materials for the hospital's subsequent site visit by the ANCC.
Result:
Artisan's Client, the hospital achieved Magnet Excellence® status for the first time. The hospital is currently working with the Artisan Magnet Excellence® Team on their Interim Monitoring Report for the ANCC. Additionally, the hospital's nursing department continues to work with the team on various projects including management of their website, copyediting nominations for external nursing awards and more.
Magnet Excellence ® Case Study #3: A Midwestern 169-bed Acute Care Hospital

Problem:
Just three months before the deadline, the Magnet® Program Director accepted a new position outside the hospital. As a result, the nursing department needed extra support to finish the document—and fast. The interim Magnet® Program Director recommended seeking copyediting and design talent from Artisan.
Solution:
The Chief Nursing Officer and interim Magnet® Program Director at this hospital tapped Artisan's Magnet Excellence® Team to support their hospital's efforts in finalizing their Magnet ® Document. Three designers and three copyeditors worked closely with the nurses to produce an electronic Magnet® Document in tandem with the hospital's web developer. Artisan's team worked seamlessly with the hospital through SharePoint to facilitate secure and streamlined review, approval and production of hundreds of documents.
Result:
The hospital successfully received their first Magnet Excellence ® status designation.
Portfolio
First impressions count.That's why our team highlights your achievements using a consistent and eye-pleasing design throughout your hospital's Magnet® Document. And because we are well-versed with the ANCC's electronic document requirements, you can be assured that each element we design will meet these extensive specifications. Please contact us to see examples of our work.

Want to learn more? Talk to Artisan today to learn more about how you can leverage our Magnet Excellence® Document Team's collective insight, guidance, organization and expertise. In addition you can find job descriptions for Magnet Excellence Professionals here.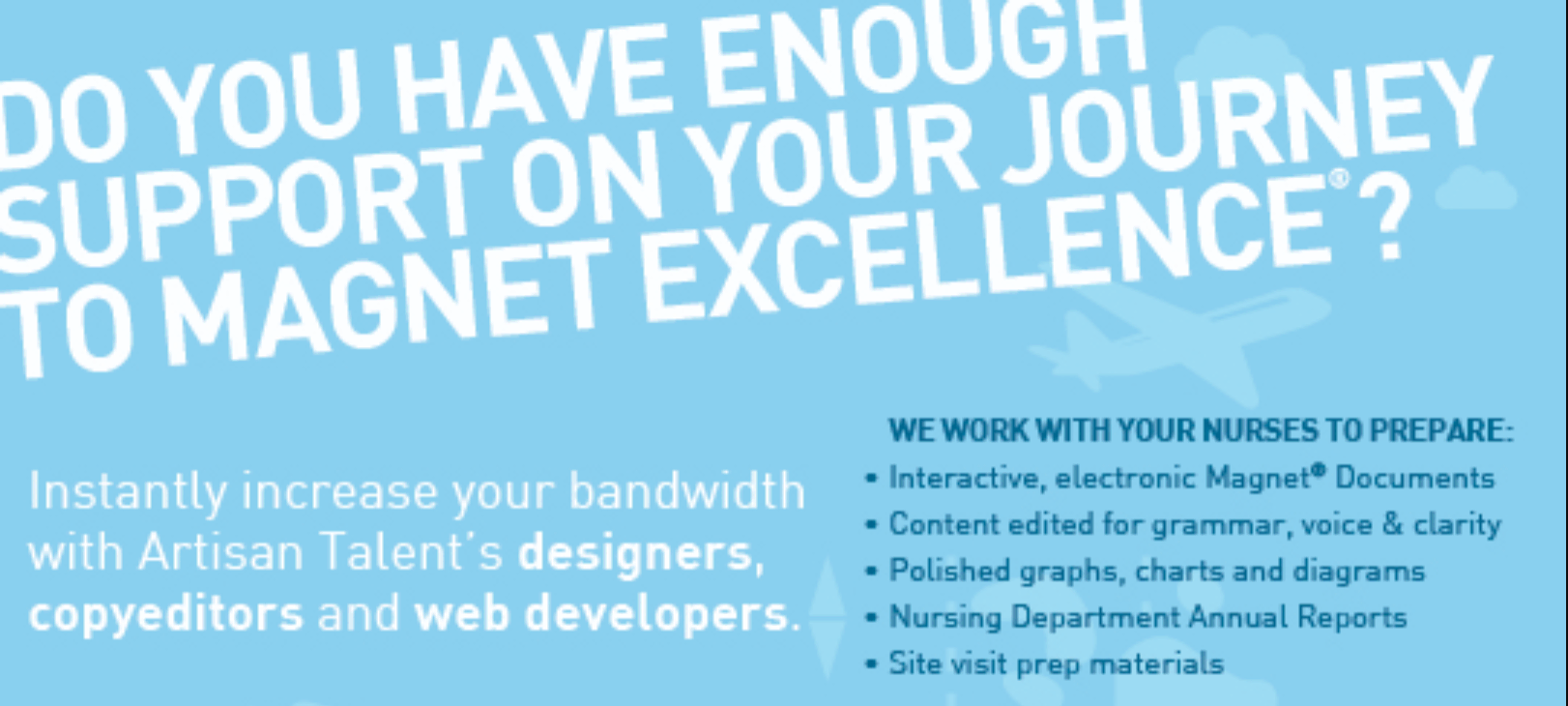 ANCC Magnet Recognition®, ANCC National Magnet Conference®, Institute for Credentialing Innovation®, Magnet®, Magnet Recognition Program®, The Magnet Prize® and Pathway to Excellence® Program are registered trademarks of the American Nurses Credentialing Center. Journey to Magnet Excellence™ and Pathway to Excellence in Long Term Care™ are trademarks of the American Nurses Credentialing Center. All rights reserved.