Watching Your P's and Q's in a Job Interview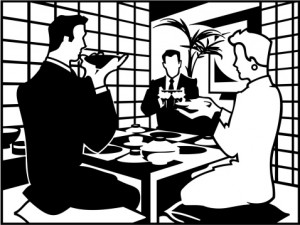 Today's job market is quite tight, even for high-demand fields like web design and other technology-related positions. Where once creating an amazing cover letter for freelancers or having a portfolio that set you apart was enough, now design professionals are having to sit through a job interview just like applicants for other positions.
As you prepare for a job interview, be sure to remember your business etiquette. Proper manners can mean the difference between landing a position and hitting the job search road again.
Preparing Before the Interview
Before you head in for an interview, make sure you are a good fit for the job. Your interviewer or recruiter doesn't want to waste time, and sitting for an interview for a position you don't want is going to do just that.
If you feel the company is a good fit, take time to learn what you can about the company. CNET recommends learning the dress code, and then dressing a little better. If the dress code is a dressy casual, you should show up in business dress.
As you research the company, be thorough. Know the names of the major players in the company, learn about recent projects and test the products, if applicable.
On the day of the interview, do what you can to cover tattoos or hide body piercings. Give yourself plenty of time to find the location, and plan to arrive about ten minutes early. Don't cancel the interview or arrive late, unless you have a true emergency. Canceling will probably cost you the position.
While at the Interview
The interview will start with a handshake, but Rasmussen College recommends you wait for the interviewer to initiate it. Have a firm, but not crushing, grip.
Throughout the interview, say the "magic word" of please and thank you as much as possible. Get rid of any gum or mints before the interview. Sit up straight and lean forward slightly to indicate interest in the position. Make eye contact to show your confidence.
One challenge for many freelancers is maintaining the right tone throughout the interview. You're used to working with designs and computers, not chatting with people. In an interview, you want a conversational tone, but you do not want to do all of the talking. Answer questions concisely and thoroughly, but do plenty of listening too.
When the interview is nearing its end, ask a few questions of your own. Questions like "What is the best thing about working here?" show your interest. Make sure the questions do not indicate a lack of research on your part, but rather an interest.
After the Interview
What you do after the interview is almost as important as during the interview, yet this is one of the job interview techniques that many freelancers forget. Within a day of your interview, send a paper thank-you note to the interviewer and anyone else whom you talked with during your visit. Monster.com indicates it is often the thank-you note that makes the difference between one candidate and the other when all other factors are equal. Finally, call or email about your interview status about a week after the interview, and continue until you get an answer, but not more than once per week.
The digital age has changed much about the job search, but job interview techniques have changed little. If you are offered an in-person job interview, mind your P's and Q's. It just might make the difference between acceptance and rejection. Contact us today to learn more.
Nicole H is a freelance writer available on WriterAccess, a marketplace where clients and expert writers connect for assignments.
___________________________________
Artisan Talent is a Digital, Marketing and Creative Staffing Firm placing talent in jobs perfectly matched with their skills all over the US.  For available jobs, to submit your resume, or learn more about working with Artisan Talent, contact us here.
Connect with Us
Linked In| Glassdoor| Facebook | Twitter | Instagram | Pinterest