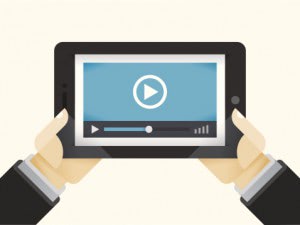 As business owners have been discovering over the past few years, video marketing offers a cost-effective, powerful means of bringing in business. A far cry from video-marketing strategies of the past, today's video marketing isn't just about churning out commercials in the hopes of persuading consumers into becoming customers. Many video campaigns focus on useful content, such as expert tutorials, to help bring in search traffic.
When it comes to launching a video campaign to get your business in front of more consumers, you really can't over-think things. Knowing where you want to go from the outset will help you determine the best course of action for total video domination.
Video Marketing: Stay in Your Lane
There's a reason cars don't drive on water. They are ill-equipped for floating, bobbing or paddling. Once in the drink, it's a straight path to the bottom. Step out of your area of expertise in your video marketing campaign, and you may be subject to the same fate.
Consumers don't want hair tips from a car company. They don't want construction tips from a restaurant chain. Whether making a video to entertain or to inform consumers, stick to your area of expertise. It doesn't matter what your company does or sells, you specialize in something, and those specialties are how you appeal to the same consumers who will buy your products or services in the end.
If you run a web design business, do a series of videos geared toward helping small business owners get their websites up and running. If you sell ski equipment, offer ski tutorials. Whatever you do, your video subjects and your business specialty should mesh. That way, you'll build a reputation in your field, which, when it comes to selling, is the only reputation that matters.
Think Differently
Whatever brilliant video ideas you have in mind, they've been done. Every minute, 100 hours worth of video is uploaded to YouTube, according to YouTube's statistics. That is a lot of video.
That doesn't make video marketing impossible. The key to video success isn't in finding something completely new. It's in making high-quality, highly-informative videos that offer users slightly different utility. There may be nearly 90,000 videos on "how to change a car tire" on YouTube (there are), but if your video is the best tire-changing video, with a few extra tips, you'll find your audience.
Before you shoot the first video, make a list of videos and when you plan to release them. By keeping up a steady stream of content, and releasing videos with regularity, you'll earn repeat viewers.
Plan and shoot
With all the free video-hosting on the Internet, video marketing is inexpensive, but if there's one place you should spend some money, it's in web video production. Plenty of shaky, audio-challenged videos find audiences on the web. Steady video, good lighting, and good sound not only give your videos a more professional appearance, but can set you apart in a crowded venue.
Whether business owners or filmmakers seeking videographer careers, those who want to create successful video-marketing campaigns will think before they shoot. If you're ready to launch your first professional video campaign, contact us today to learn more.
Riley L is a freelance writer available on WriterAccess, a marketplace where clients and expert writers connect for assignments.
___________________________________
Artisan Talent is a Digital, Marketing and Creative Staffing Firm placing talent in jobs perfectly matched with their skills all over the US.  For available jobs, to submit your resume, or learn more about working with Artisan Talent, contact us here.
Connect with Us
Linked In| Glassdoor| Facebook | Twitter | Instagram | Pinterest