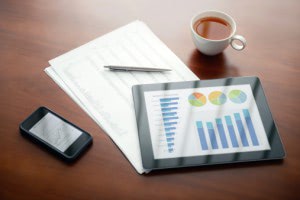 Mobile marketing is an up-and-coming advertising outlet, especially as more mobile phone users begin accessing the internet from their phones. However, despite the marked increase in the use of mobile media, Social Media Today reports that only 25 percent of businesses currently have a mobile marketing strategy in place. To get in on the action, amp up your game with these five mobile marketing tools.
1. Facebook
The average smartphone user logs onto Facebook an average of 14 times every day, according to research published by IDC. With this level of exposure, Facebook mobile marketing offers a great deal of potential to businesses.
You can employ mobile marketing on Facebook using your own profile, as well as promoted posts. On your own profile, you can connect with previous customers and potential clients to create an ongoing relationship. Using promoted posts, which allows you to place posts about your company in conspicuous locations on others' newsfeeds, you can reach your connections and their friends even more effectively.
2. TextUs.Biz
With TextUs.Biz, businesses can use a tablet or computer to communicate with customers via text messages. This service is ideal for processing appointment or reservation requests, reminding customers about their upcoming appointments or sending information to customers about promotional offers your business is currently offering.
3. Swipely
Many businesses offer loyalty programs to keep their customers returning to the company. In the past, loyalty program enrollment required a lengthy form, and customers had to carry a full-size plastic card, punch card or keychain card. With Swipely, however, your customers can join your loyalty program by sending Swipely a short text, and they can enjoy the benefits of the program without adding any new cards to their wallets.
4. Red Stamp
Red Stamp is a unique program that allows mobile developers to create custom communications using a desktop computer or mobile communication device. Using this program, you can develop promotion announcements, invitations, thank-you notes and more. You can then share these creations with your customers digitally, or you can instruct Red Stamp to print and mail paper copies for a small fee.
5. MailChimp
If your business utilizes an email marketing campaign, MailChimp can help you take ready the campaign for mobile. With MailChimp, you can view and manage your subscribers directly from your phone or other mobile device. You can also view important stats about the campaign, as well as updates from Twitter about recent tweets that mention your company. Furthermore, MailChimp offers several templates that you can use to create and send mobile-friendly communications to your subscribers.
These programs and applications represent just a small sampling of the tools currently available to mobile marketers. From professionals preparing for web design careers to owners of established businesses, everyone can benefit from a deeper understanding of mobile marketing strategies. Contact us today to learn more mobile marketing tips.
Amanda M is a freelance writer available on WriterAccess, a marketplace where clients and expert writers connect for assignments.
___________________________________
Artisan Talent is a Digital, Marketing and Creative Staffing Firm placing talent in jobs perfectly matched with their skills all over the US.  For available jobs, to submit your resume, or learn more about working with Artisan Talent, contact us here.
Connect with Us
Linked In| Glassdoor| Facebook | Twitter | Instagram | Pinterest