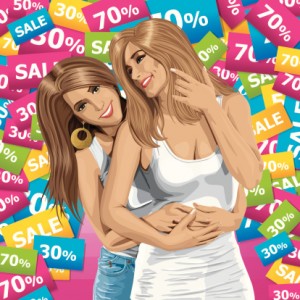 With big box retailers scratching their heads in confusion at the disappointing numbers displayed in 2013 for the biggest shopping day of the season, Black Friday, online businesses are popping champagne for the overwhelming success of Cyber Monday. Setting a new one-day record for online shopping, internet marketers reported an overall 20 percent increase in business from the previous year.
Mobile's Role in Cyber Monday Percentage Boost
Much of the reported boom in online sales could be easily explained as the influence of Black Friday fatigue. But researchers are pointing to mobile purchases as the reason for the dramatic uptick – an uptick that exceeded sales projections by a full 2.5 percent. According to the data collected, purchases made from online retailers via mobile devices (including smart phones and tablets) accounted for 17 percent of all Cyber Monday sales. Breaking it down even further, we find something even more surprising: purchases made on tablets actually accounted for a bigger slice of the buying pie, at nearly 12 percent.
A Wake-Up Call to Retailers
Whether you choose to put it all down to Black Friday fatigue, the convenience factor, or the increased efforts of companies to boost their online profiles, no one can dispute that 2013 has been a landmark year for the online sales industry. Another thing that can't be disputed is that developing and broadening online storefronts should be the first order of business for brick and mortar holdouts who have yet to dip their toes into that uniquely lucrative pool.
Bonus Perks of Online Sales
Aside from an exponential growth in sales, other benefits of 2013's Cyber Monday are expected to be felt well into the new year. Email marketing possibilities should see a marked increase as a result, since the vast majority of online purchasers are usually required to provide their email addresses in order to complete online sales transactions and track package delivery. The collection of this invaluable form of contact information is often used by online retailers to build customer databases that are later used for additional target marketing purposes.
Email marketing, which predates the explosion of online storefronts and virtual shopping carts, remains one of the most effective methods retailers have of staying in touch with past customers and enticing their repeat business with coupons, deep discounts, and special event notifications.
Early Bird Suggestions for Cyber Monday 2014 Prep
With the Holiday shopping season now past, online retailers the world over have already begun formulating their plans for Cyber Monday 2014. Those businesses not yet versed in the ways of virtual shopping carts and online payment portals can begin preparing now, by taking action on the following steps that will put them into contention to play a part in 2014's expected Cyber Monday boom.
Create an online web presence that will act as a hub for both sales, marketing, and social media communication with your customer base.
Incorporate an online store within your website where products or services can be displayed, with appropriate pricing.
Establish a shopping cart and payment gateway where customers can order goods or services and pay securely with a credit card.
Ensure website cross-functionality between desktop users and mobile users, paying special attention to responsive design that renders accurately depending on what type of device is being used to access the site.
Develop a method of tracking online sales and reviewing website activity to better hone your marketing approach.
We can help! Artisan Talent works regularly to pair experienced professionals seeking short- to long-term freelance marketing and web design opportunities with companies like your own. Contact us today to learn more.
___________________________________
Artisan Talent is a Digital, Marketing and Creative Staffing Firm placing talent in jobs perfectly matched with their skills all over the US.  For available jobs, to submit your resume, or learn more about working with Artisan Talent, contact us here.
Connect with Us
Linked In| Glassdoor| Facebook | Twitter | Instagram | Pinterest