Create a Killer Meme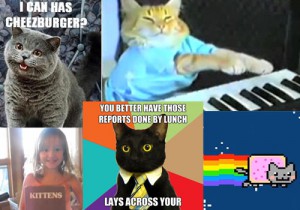 A Meme is like a message in a bottle, except that it is set afloat on the internet. Funny, tender or downright raunchy, these pictures combined with brief captions capture the eye as they wash up on the homepages of social media users.
Marketers are paying attention to the phenomenon of killer memes, the kind that make thousands of amused readers on social sites, such as Facebook, spread the message rapidly across the cyber seas by clicking on 'share' buttons.
Great memes entertain viewers. From a creative marketing viewpoint, the best ones cause viewers to click-through to the websites that they help brand. A Killer meme can cause readers to take action, such as subscribing to a website, making a donation or purchasing goods and services.
Attracting Consumers Instead of Lawsuits
Much that goes viral on the internet does so by happy accident. But it is far from an accident when a well-designed, cleverly written meme attracts consumer attention. There are, however, legal matters to consider so that your killer message doesn't inspire a killer case of copyright infringement.
Online meme generators offer an abundance of images that appear to be free. But this isn't a safe assumption if you are using the images to make money. At the Corporate Counsel website, intellectual property lawyer Scott J. Slavick says that if you want to use a popular image, you need to determine whether it is protected by copyright or trademark that requires licensing fees.
If the meme you've constructed is a composite of materials from different copyrighted sources, such as the combination of a quote from a book and a photo, you need licenses to use both as well as permission to combine them.
Accessing Public Domain Materials
Use of public domain materials, such as many Library of Congress photos, generally avoids copyright problems and offers plentiful opportunities for creative marketing designs. For example, an animal shelter could create a meme from the Library of Congress file photo Man and dogs on rail cart trip from Shelton to Nome, because it is cataloged as having 'no known restrictions on publication.'
Sometimes free photos from sites such as Morgue File or Creative Commons are referred to as being in the public domain. But that's inaccurate. Free photo sites may require users to obtain permissions from the photo creators, which is not the case for most Library of Congress photos, especially ones from the 1920s and earlier.
Also, Morgue File notes that if a free photo is used without significant alteration, attribution is necessary along with permission from the photographer. So if you create a meme using one of the website's free images and mark it with your name or the name of a client company, you also likely will need to add the photographer's name.
Many resources are available for putting together a meme with 'unambiguously public domain' images, according to the Public Domain Images Online website. However, your own original materials are probably the least ambiguous and safest solution to avoiding intellectual property infringement.
Building Brand Through Memes
To transform an image into a well-branded meme, the caption attached to it should be brief, pithy and relevant to the website with which it is connected. For example, in talking about questions of clear communication, website Mainstreethost creates memes to demonstrate how to write short captions about complicated ideas.
"One semicolon?" asks the caption above the shining bald pate of Pawnstars' Rick Harrison. "I'll give you two closely related independent clauses for it," is the answering caption beneath his goatee.
Returning to the animal shelter example, one meme currently being circulated shows a dog with a trusting look on his face and the caption "Be the person your dog thinks you are." It's gently funny yet also helps shelters transmit their essential message that people should be kind to animals.
Grammarly memes are a good example of funny, effective brand builders. The company's interactive marketing strategy is to lure viewers to the its website with humorous memes clarifying common writing mistakes. The more viewers share the meme, the more people head to Grammarly for help with their writing.
Of course, killer memes can't be effective if they aren't backed up by quality service, something for which the Grammarly website has received praise along with about 550,000 subscribers by early 2013.
Adding A Watermark
It may seem too basic to mention, but if you want a meme to build brand, it has to contain the name of the website it wants viewers to visit. This is called watermarking and requires installation of an application on your computer or mobile devices. The app may be a photo editor containing the extra ability of marking photos or it may simply create watermarks and embed them through a photo editor to which it links.
As one popular meme character — the Y U NO man — might say about lack of watermarking, 'Y U NO tell me your brand?'
Alicia R is a freelance writer available on WriterAccess, a marketplace where clients and expert writers connect for assignments.
___________________________________
Artisan Talent is a Digital, Marketing and Creative Staffing Firm placing talent in jobs perfectly matched with their skills all over the US.  For available jobs, to submit your resume, or learn more about working with Artisan Talent, contact us here.
Connect with Us
Linked In| Glassdoor| Facebook | Twitter | Instagram | Pinterest