Subreddits For Designers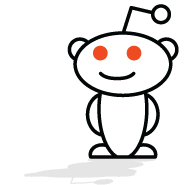 Reddit is a thriving social networking community that contains all kinds of resources for designers and anyone interested in a graphic design career. Here are five smaller communities within the main site, called "subreddits," that anyone interested in design should check out.
This subreddit has 29,125 members and is one of the more active design related subreddits on reddit. Per their description, it includes "news, theory, resources, and inspiration for visual communicators." This includes almost any and all things related to good design and visual communication, including discussions about logos, identity design, and print design. Whether it was a book, magazine, or a poster, it's fair game. You'll also find discussions about commercial iconography and illustration, advertising, branding work, motion graphics, and kinetic type.
The moderators encourage self-posts on theory, celebration of groundbreaking work, examples of really good well-known design, and examples of really bad well-known design. You'll also see history-of-design posts, tips and techniques, trends, technology, and career discussions.
You'll find inspiration, commiseration, examples of work from people looking for feedback, questions about portfolios and spec work, and all kinds of debates about what to do and what not to do. If you're fascinated by all things design, you'll find a lot of like minds here.
This is a smaller community of only 9,189 readers. It's about the deeper stories behind the craft of design and the processes you can use inspire yourself and to create. This subreddit is not nearly as active as some of the other subreddits about design and visual communication, but some of the deeper conversations are worth investigating. Many of the posts link to longer articles about the context of design, suggestions on how to present designs, and even thoughts about how design terminology affects design culture.
With 165,022 readers, this subreddit gets lots of traffic. If you've got Photoshop skills and a sense of humor, this is the place for you. Weekly Photoshop battles are posted with a blank image; anyone can submit their Photoshopped versions of that image and readers vote for their favorites. All entrants get "flair," a badge that displays next to your reddit username – winners receive trophy flair. The images are posted with a contest start and end date, and the thread uses "contest mode" to collect votes. These contests get really interesting when one entrant adds to another's photos. The visual dialogue is worth checking out.
Think of this subreddit as the antithesis of everything good in the world of design. 23,500 readers are involved, pointing out Adobe Suite failures, ridiculously lazy work, and designs that are flawed from conception. They've even gone so far as to use comic sans for their custom font and fill their header with enough ironic noise that you consider reading with one eye open. This is a great place to make yourself feel better about any and all of your work, have a good laugh at someone else's expense, and find some examples of what not to do.
We're rounding out our deep dive with r/design, which has 74,379 readers and specifically bans spec work requests, design contests, and "low effort" posts such as image-macro memes. Billed as a collection of design resources, this subreddit covers all types of design, design theory, discussions of inspirational ideas, and all types of other visual inspiration. This is a more general design forum than some of the others, and the ban on memes and non-content keeps it interesting.
Subreddits for designers like these can help you move up; the more you immerse yourself in the world of design, the more your career will flourish. Contact Artisan today if you're ready to take things to the next level.
Thank you for reading our article on subreddits for designers.
Brad P is a freelance writer available on WriterAccess, a marketplace where clients and expert writers connect for assignments.
___________________________________
Artisan Talent is a Digital and Creative Staffing Firm placing talent in jobs perfectly matched with their skills all over the US.  For available jobs, to submit your resume, or learn more about working with Artisan Talent, contact us here.
Connect with Us
Linked In| Glassdoor| Facebook | Twitter | Instagram | Pinterest