Responsive Vs Adaptive Design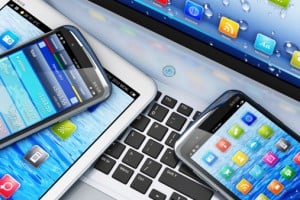 When embarking on a project, web designers must decide between responsive vs adaptive design approaches. The primary goal of responsive web design is to create an optimal viewing experience for users with a broad range of viewing devices, including mobile devices with small screens. An adaptive approach to web design optimizes the viewing experience for traditional viewing devices with larger screens and adapts the website as needed to accommodate mobile users.
Mobile developers must consider a variety of factors when deciding on which approach to use, according to Idea Lab.
Responsive Web Design
Responsive web design attempts to provide the same viewing experience for all users regardless of their screen size. Proponents of this approach claim that it results in a better overall experience for users and less maintenance of the website.
Canadian news organization GlobalNews launched its first website in 2009 using adaptive design. Digital Director David Skok reports that GlobalNews was unsatisfied with its original website and wanted to redesign the website with responsive design. He adds that most of the GlobalNews viewers are mobile users who access their site through social media and searches rather than entering the URL directly into the browser.
Keith Robinson, Manager of Digital Products for GlobalNews says that the annual conference of the Online News Association also played a part in the decision to use responsive web design. He and his colleagues spoke with the people who re-launched the Boston Globe's website with responsive design in 2011 and were impressed with the results. The Boston Globe was able to provide premium content that users could read with a variety of devices. Robinson recalls that this successful re-launch demonstrated the capabilities of responsive web design for other news organizations.
Adaptive Web Design
The Globe and Mail has the largest national circulation in Canada and its second-largest daily circulation. Many Canadians view its online front page each morning, which uses an adaptive strategy. The Globe has a website dedicated to mobile users and eight applications that accommodate a range of viewing devices. The Globe's Mobile Editor, Matt Frehner, adds that their audience includes many members of corporations and governments who use traditional desktop devices to view their website. The Globe needs to serve these users as well as those with the latest mobile devices.
Frehner also says that the Globe wanted to use features that are only available on some viewing devices. This requirement means the website must detect the user's devices and modify the website's behavior based on that information. The Globe's website places devices into three categories, or buckets, which determine the user's experience. For example, older devices such as a Blackberry go into the fallback bucket. Mobile phones without touch screens go into the middle bucket and phones with touch screens go into the high-end bucket. Each bucket uses its own style sheet to access features available to the devices in that bucket such as Flash video.
Want to put your web design expertise to good use? Expanding your web presence and need to talk to an expert web designer? What to know whether to choose a responsive vs adaptive design approach?Contact us today to learn more.
Emmet M is a freelance writer available on WriterAccess, a marketplace where clients and expert writers connect for assignments.