Talk to Your Online Customers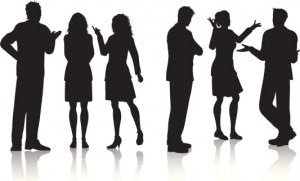 A professional web design company owner knows that there are tricks of the trade in every business, including marketing. Naturally, they want to have a full bag of those tricks to offer their clients. If you have a freelance web designer job at such a company, you must stay on top of recent online trends that relate to communication and purchasing decisions.
Stay on Top of Change
Decades ago, straight talk meant that your advertising messages could explain the product and sell the product benefits in terms that were almost formal by today's standards. With all the recent developments and inroads made via the Internet, online advertising can no longer be a carbon copy of "what used to work" in other media. You were told to sell the sizzle of the product; now you need to focus on the benefits to the customer.
In light of current trends for online communication, it is far better to talk to your online customers than to sell to them using traditional styles of advertising. Rather than focusing on the product or your company, you need to tell them what that product will do for them, how it will benefit them and improve their lives.
Incorporate "You" into Online Advertising
Eliminate the fluff and instead incorporate "you" into your online advertising. This is not to say you need to SHOUT at them; you need to talk with them like you would talk to a friend. Be personal, sincere, specific and honest. Honesty is one thing that never goes out of style. Understand that your potential customer is bombarded online by thousands of messages competing for their purchasing dollars.
Another point to remember when you create messages for online customers is to speak their language. If you are targeting professionals, do not hope that basic street language will even be understood by them, and vice versa. Highlight benefits your target audience will receive when they use your products more than just highlighting the products you are advertising.
Sharing is King
Of course you want to include all the social media angles you can in your marketing, not only to help sell your product to the viewer, but also to get them to "share" that information with their circle of friends. This is another huge trend of this decade in online communication. Sharing is king right now; get people to share your information, and it should drive new visitors back to your website. Once they have arrived, you have that golden opportunity to talk to them directly about the benefits they can get from using your product.
You can achieve great success in a freelance web designer job if you stay on top of current communication trends. Read all you can to keep informed about this, so you are able to maintain your claim to excellence as a web designer. If a client uses a professional web design company, they will expect no less from you and that company. The bottom line will be results. If you cannot produce measurable results from your work, your work opportunities will disappear.
Linda E is a freelance writer available on WriterAccess, a marketplace where clients and expert writers connect for assignments.
___________________________________
Artisan Talent is a Digital, Marketing and Creative Staffing Firm placing talent in jobs perfectly matched with their skills all over the US.  For available jobs, to submit your resume, or learn more about working with Artisan Talent, contact us here.
Connect with Us
Linked In| Glassdoor| Facebook | Twitter | Instagram | Pinterest