You've hired a mobile app developer and you're poised to watch your creation take the internet by storm. You make your app available on the Google Play market and the Apple App Store, eager for the accolades to come rolling in.
Then nothing happens.
If this sounds painfully familiar, take heart – you're not alone. Tens of thousands of business owners have experienced this before and tens of thousands will experience it in the future. Does it mean your application stinks? Of course not. It just means you haven't taken the most effective steps to get it noticed.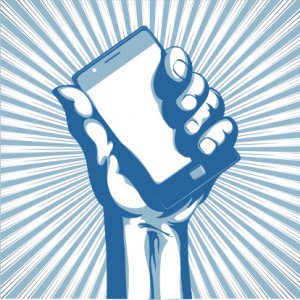 Mobile apps don't market themselves. No matter how good they are, every single one of them is dependent on a marketing strategy that'll put it under people's noses to be discovered. Are you at a loss as to how to create an effective mobile applications marketing plan? Never fear. We've got some tips that could turn your lonely little app into the most popular kid on the market.
Give your press kit a makeover
If you don't have a press kit, we've just identified your biggest problem. If you have one that's failing to get people's attention, consider this: less is more. Always. And more often than not, a little mystery helps sell things. Your press kit should identify what your application solves without coming right out and saying what it does. If you can hit that angle, you might hit a home run. Also, pay a lot of attention to the language of your press release. Make use of keywords so that your app can be easily discovered, and pay attention to quality writing. If you don't have a video demonstrating what your app does, you're already behind the curve. Giving consumers the option of watching a video instead of reading a press release can get through to a lot more potential users.
Create a compelling website
Sure, this is easier said than done. But if you hire a web developer, you can work with to build a site that delivers information about your mobile app in an easy to understand way, you won't be singing the lonely app blues for long. Make your landing page short and sweet. Too much information can chase prospective downloaders away. Remember, less is more.
Write a blog about your app
Most important of all, keep that blog alive by updating it frequently. This is one of the most effective ways of getting your mobile app noticed, since search engines rank websites based on keywords and the frequency on which they're updated. You can write the most keyword-rich blog post in the world, but if you don't update your site frequently, it'll get buried underneath everything else. So keep a regular schedule with your blog so that your readers will know when to expect new information. You don't have to publish a new blog every day – if you can, that's great. But since writing a blog takes a lot of time and effort, try to keep it on a weekly or bi-monthly schedule to start out with.
Get users to provide feedback
Old school methods prevail, even in the mobile app market where there's nothing better than good word of mouth. If you can entice or encourage your users to leave feedback and write quick blurbs to share their opinions with others, this will drive greater visibility.
Contact us today to learn more about how you can get in contact with professional, experienced mobile app developers who will help you create an awesome application that'll boost your brand's profile.
Vince F is a freelance writer available on WriterAccess, a marketplace where clients and expert writers connect for assignments.