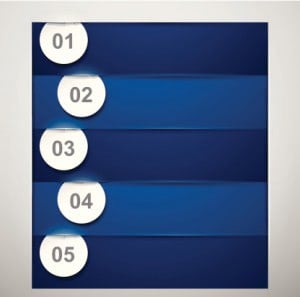 When making critical decisions about your website front page, keep in mind that most website visitors have the attention span of sugared up squirrels. According to Google engineer Arvind Jain, they only give websites the blink of an eye to give them what they're looking for before moving on.
Those interested in good web design or a web design career must put the critical stuff on the website front page (or homepage) so visitors get what they want immediately. Our creative talent agency reminds web designers not to forget these 5 homepage essentials, or you can kiss those visitors goodbye.
Website Front Page / Homepage Essentials
Current Contact Information
Entrepreneur recently reported that fully 75 percent of small business websites do not have an email link on their front page, and 60 leave out their phone number. Do not bury this essential information; put it right out front where users can get it. Chances are, if they are using a mobile device (and many of them are), that's what your visitor is looking for right now anyway.
Smart, Fast, Telling Graphics
Your site visitors do not have time for cute animations, slide shows or bells and whistles that do not add value to their lives or that fail to show them who you are and what you do in that precious blink of an eye. If a picture is worth 1000 words (and you know users aren't going to read 1000 words), then make sure that picture tells the user what they need to know fast and does not hamper the loading time on their end. There are great web design careers waiting for designers who can do this well!
Easy Navigation
Without clear, direct menu options and a site map, your visitors can easily get lost and frustrated. During the planning phase of your website, devise the simplest, most direct navigation to the essential parts of your website. Forbes suggested including an "I'm looking for" type of button with a dropdown list that includes the most-frequently-searched-for pages. Also make sure to check all of the links on your site frequently to ensure that they are working.
A Way to Subscribe
One way to get return visits is to help users feel special by giving them free perks if they subscribe to your site by giving you their email address. Those email addresses are still powerful marketing tools, as we discussed in an earlier blog. Also make sure that links to your social media are front and center to give you even more ways to build relationships with them.
Call to Action
You need to tell your visitors what they should do next: Stop by! Sign up! Enter the contest today! Call us! Otherwise more of them will leave your site without doing any of those things.
To all this add fresh, interesting content and not only will you keep your site visitors coming back, they may enjoy the experience so much that they suggest it to their friends. For more tips on website front page essentials or budding web design careers, contact our creative talent agency today to learn more.
Andrea M is a freelance writer available on WriterAccess, a marketplace where clients and expert writers connect for assignments.