The Doll that Saved Applebees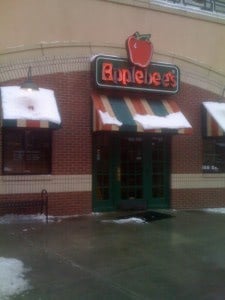 Freelance marketing opportunities are moving into new territory these days, especially with the expansion of online advertising and as the use of social media for advertising purposes increases. Some of the best freelance marketing tips can be found by looking at charts and graphs of social media use by consumers. Dig in and digest the results to be a step ahead of the crowd because you understand how to best take advantage of that consumer preference information.
Marketing opportunities are wide open, and always have been, as was demonstrated by the successful use of an unusual campaign that saved Applebees restaurant. Their marketing of a blow-up doll was a step away from the usual mix of happy people enjoying delicious food while upbeat music plays in the background. In their step away from ordinary marketing, Applebees took drastic action in redesigning their restaurants to make them visually more local and home-town friendly to the neighborhoods where the outlets are located, yet more modern in overall theme.
The new campaign still conveyed the importance, almost reverence, of food. This theme was pumped up in a thoroughly modern way, using a voiceover by popular Saturday Night Live talent Jason Sudeikis. The bottom line for gaining customer satisfaction still remains, the food must be tasty and the restaurant atmosphere comfortable and friendly.
Nonetheless, traditional and does not address the main problem encountered by many office workers of how to get away from that office to go get lunch. Applebees marketing stars Crispin Porter and ad agency Bogusky created a very non-traditional gimmick to solve this problem. An inflatable doll sat at the worker's desk as a lunch decoy, allowing the worker to scoot out to grab lunch at Applebee's. To communicate and market this idea, the creators turned to YouTube, in addition to running ads on TV. In addition, consumers could actually purchase their own lunch decoy blow-up doll from Amazon.
The stunt was a success; six available versions of the dummies were sold out at Amazon in less than a month. Applebees business scored points from the campaign, up by 1% in the first half of 2012, which matches other same-restaurant sales achievements. The ultimate results of the doll campaign remain to be seen. It does bring to the front the point that marketing opportunities take many forms and new directions in this blossoming age of social media influence.
What this story can tell you is that freelance marketing tips are everywhere if you look beyond the obvious. Selling a blow-up doll was not the main point; gaining time to run to Applebee's was the issue at hand in this campaign. The subsequent popularity of the doll was secondary to the main result of increased traffic to the restaurant. Both brought in positive monetary results for the client, always a plus when you are the marketing genius behind creative ideas.
___________________________________
Artisan Talent is a Digital, Marketing and Creative Staffing Firm placing talent in jobs perfectly matched with their skills all over the US.  For available jobs, to submit your resume, or learn more about working with Artisan Talent, contact us here.
Connect with Us
Linked In| Glassdoor| Facebook | Twitter | Instagram | Pinterest