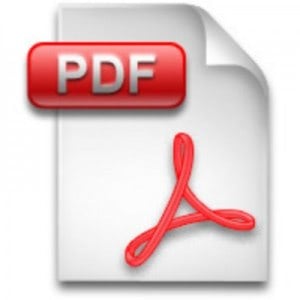 PDF, or Portable Document Format, is one of the most popular means of publishing and submitting resumes and samples. It protects your documents from editing, so you can be sure that potential employers, clients, and contacts see them the way that you intended.
It can give you an edge over less savvy job seekers.
When you apply for a job, you can assume that the people receiving your resume have to parse through dozens of similar applications. If you send a Microsoft Word document, it will appear with squiggly lines under proper nouns, including your name, which makes your resume look bad and imposes a distraction. This may not seem like a big deal, but such factors make a difference when your life's work is being judged in the blink of an eye.
Send a PDF copy instead, and you demonstrate that you know what you're doing and make an extra effort to appear professional.
To work with PDFs, you'll need to download Adobe's free PDF viewer, if you don't already have it. This tutorial will guide you through the process of turning your awkward Word documents into crisp PDF files.
Check out our job-search resources to learn more, and contact us today for access to the best work opportunities around.
Emerson Dameron is a marketing and social media specialist at Artisan. Contact him through our Chicago office.
___________________________________
Artisan Talent is a Digital, Marketing and Creative Staffing Firm placing talent in jobs perfectly matched with their skills all over the US.  For available jobs, to submit your resume, or learn more about working with Artisan Talent, contact us here.
Connect with Us
Linked In| Glassdoor| Facebook | Twitter | Instagram | Pinterest