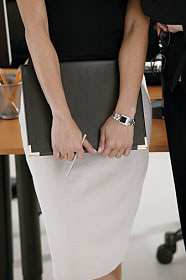 The first thing any job seeking freelance designer should worry about is his or her resume, which lists all of their design qualifications; shortly (very shortly) thereafter should be presenting an amazing portfolio. When a creative talent agency hires a freelancer, especially for any type of design job, they have to be sure the person has a portfolio that reflects the client's business needs.
Portfolio
Graphic designer portfolios should contain your best work, both in print and digital form. With a physical portfolio you have to pare down what you bring with you. When putting together your online portfolio, you have more room to strut your stuff. Just remember, having only your best work up is better than posting all your work – quality over quantity. Just because a web portfolio can host more of your work doesn't necessarily mean it should; put the focus on your most exemplary pieces.
You'll find that all freelance job agencies are looking for different things within your portfolio, but one thing that will always turn them off is technical glitches in your online portfolio. If the functionality of your site is in question, why should a prospective employer assume you'll do good for their site? This holds true even if the design job you are aiming for is not web. So if you're constantly grappling with the functionality of the site on which your portfolio is published, consider switching to a simpler platform or eliminating the bells and whistles that are causing you headaches.
Organization
Once you have the site running smoothly, consider the importance of cohesive organization. The way your work is displayed should have some rhyme and reason to it. Don't be afraid to use words to explain how you put together a particular piece and why you made critical design choices. If you don't consider yourself a wordsmith, take a first stab at these explanations and have a friend with strong writing skills clean up your copy. This goes a long way towards showing what kind of designer you are.
Providing hiring managers and talent agencies with easy access to relevant samples of your work will yield you more jobs with shorter interview cycles. And always remember that, especially as a designer, attention to detail can get you hired just as quickly as inattention can get you fired.
___________________________________
Artisan Talent is a Digital, Marketing and Creative Staffing Firm placing talent in jobs perfectly matched with their skills all over the US.  For available jobs, to submit your resume, or learn more about working with Artisan Talent, contact us here.
Connect with Us
Linked In| Glassdoor| Facebook | Twitter | Instagram | Pinterest