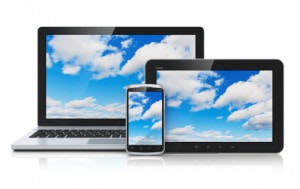 As the popularity of mobile devices continues to grow at impressive rates, the need to build a mobile-responsive website becomes increasingly important. While companies have been keeping up with the rise of smart phones and tablets through the use of mobile design, the more recent innovations in responsive design have streamlined the site-building process across the board. Though there is still some debate amongst mobile developers as to whether mobile or responsive design is best for SEO, there are at least three undeniable advantages to opting for responsive design over mobile design.
Advantage #1: One Site, One URL
When you build a mobile site, you technically build a second site for the same company. You have your main company website, www.nytimes.com , and your mobile site, m.nyt.com. The benefit of this is that the mobile site provides mobile users with a better experience than the web-based site, preventing site alienation in the growing mobile market.
The disadvantage is that your company website has two URLs. When someone asks you for your website, you probably give them the web-based URL, which won't provide them with the best experience if they look your site up on a mobile device. Yes, technically your website should detect the mobile device and automatically redirect the user to your mobile site, but it doesn't always.
Responsive design adjusts automatically to any device, ensuring an optimal experience whether the user is viewing your site on a big-screen TV or a smart phone.
Advantage #2: One Site, One Target
With separate web-based and mobile sites, you keep your eggs in two baskets, and site-building may be the only place in life where that's a bad thing. Having two sites negatively affects many factors that determine search engine ranking, including the number of times your URL is shared online, your number of site visitors, and incoming links.
With a single responsive site, you ensure search engines can see the true popularity of your website.
Advantage #3: One Site, One Code
As a web developer, the most important advantage to responsive design may not be on the public side, but on the production side. One responsive site requires one site code, which saves you work during the initial design process and when making updates to the website.
Responsive site design was created with both site visitors and site creators in mind. Since responsive sites adapt automatically for optimal viewing on any device, visitors get the best possible experience each time they visit a website, no matter which device on which they open it. This adaptability lessens the burden on web designers too, eliminating the need for dual sites where only one site is necessary.
Today's responsive sites are only the beginning of a wave that is bound to make web design careers more streamlined, so that web and mobile developers can put greater emphasis on the creativity in the design process than on the building itself.
If you're looking to get started on your career in web design, contact us today to learn more.
Riley L is a freelance writer available on WriterAccess, a marketplace where clients and expert writers connect for assignments.
___________________________________
Artisan Talent is a Digital, Marketing and Creative Staffing Firm placing talent in jobs perfectly matched with their skills all over the US.  For available jobs, to submit your resume, or learn more about working with Artisan Talent, contact us here.
Connect with Us
Linked In| Glassdoor| Facebook | Twitter | Instagram | Pinterest