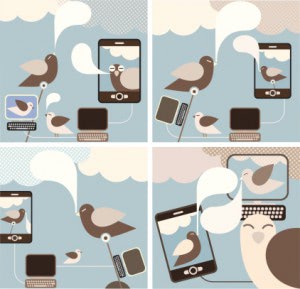 Twitter may be one of the most valuable tools today for the connected web designer, internet marketer, freelancer, student, parent, friend, and job seeker. Just take a look at some of these striking Twitter statistics (as of December 2012) to realize the vast potential of this social media tool:
Roughly 175 million Tweets are sent out on a busy day
750 Tweets are shared on Twitter every second
There's over 140 million users actively using Twitter
Twitter announced several new features in early February 2013 that aim to make the Twitter interface and its search more helpful and interesting. The content created by the millions of Twitter followers makes for an ideal platform for constructing a useful search engine, and the company appears to be moving that direction.
The updated app gives Twitter users "a single stream of content in each tab, so you can better find what's most important to you when you on the go," writes Esteban Kozak, Twitter product management director.
One of the goals of the update is to persuade users to take more advantage of using Twitter search along with using different tabs to locate new content anyway within the app. Overall, the app has made linking to exterior website easier and the look of search results cleaner. The changes apply to both the iOs and Android version of Twitter, in addition to its mobile browser version.
Here's the lowdown on what's new on the Twitter app:
Search:
The new search screen gives Twitter uses a single stream to access images and media. A new search button, which appears as a magnifying glass, will be available on the iPhone app (and every page of iOS); a feature that had previously only been available on Android. Users will continue to be able to sort results by people or Tweets.
Discover tab:
As part of the update, whether using an iPhone or Android app, a Twitter user will see all content, which includes Trends, Activity, Tweets, and follow suggestions, in one stream. There's also access to a more global view, by using the "View All Trends" or "View All Activity" buttons.
Links:
In an effort to reduce clicks (and save thumbs), a new change removes the click previously required by a user to expand a Tweet in order to then click a website link.
Connect tab:
A tweaked Connect tab now opens automatically to Interactions, which will display new followers to the user, in addition to mentions and retweets. If desired, a user can be directed straight to Mentions, by adjusting his or her default settings.
For some of us, Twitter can be about making new connections, rekindling old relationships, or strengthening current friendships. But don't discount the benefits of using Twitter to help fuel your search for work  or an a means to grow your freelance career.
Whether you're a freelance internet marketer looking for a job or pursuing one of many web design careers available today, Artisan Talent can assist you in achieving your goals. Head to www.artisantalent.com for more information.
Oh… Be sure to follow us on Twitter, too!
Elizabeth M is a freelance writer available on WriterAccess, a marketplace where clients and expert writers connect for assignments.
___________________________________
Artisan Talent is a Digital, Marketing and Creative Staffing Firm placing talent in jobs perfectly matched with their skills all over the US.  For available jobs, to submit your resume, or learn more about working with Artisan Talent, contact us here.
Connect with Us
Linked In| Glassdoor| Facebook | Twitter | Instagram | Pinterest