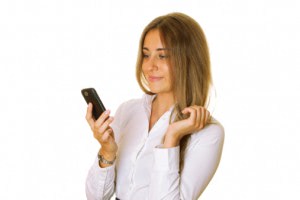 Though responsive design is a valuable tool for mobile developers, it isn't the only technique required for effective mobile SEO. In reality, mobile SEO requires an in-depth understanding of user intent and the implementation of dynamic serving to accommodate the needs of the typical user.
About Responsive Design
Using responsive design, you can create a website that works on any device using cascading style sheet media queries, flexible images and flexible layouts. When a user visits the website, the site automatically detects the visitor's screen orientation and size, and the layout changes automatically to accommodate the screen. However, the changes are solely visual, and all of the site's content remains the same.
Understanding User Intent
Users think differently when they search on mobile devices. Whereas a user on a laptop may be looking for products with the cheapest shipping or best price, mobile users are more likely to search for a nearby store that carries a desired item. By tailoring your mobile website so that users can find nearby retailers easily, you maximize the chances of making a sale. Conversely, if you present the same content found on the non-mobile version of your website, users have difficulty navigating the site on such a small screen and are more likely to use another site to find what they need.
Dynamic Serving: The Key to Effective Mobile SEO
Like responsive design, dynamic serving changes the website to accommodate the device accessing it. However, whereas responsive design changes only the aesthetics, dynamic serving goes one step further and changes the HTML code as well. For example, users who access your website using a laptop or PC may notice a small link to the store locator at the top or side of the screen, but users who access the site on a mobile phone will find the link to the store locator front and center. Since mobile users are likely searching for the store locator anyway, they find what they need immediately when they access the site.
Responsive design is an excellent first step for your mobile SEO strategy, but it isn't all you need. By implementing dynamic serving in conjunction with responsive design, you can improve the effectiveness of the website and increase conversion rates. If you need help creating a website that makes use of dynamic serving, Artisan can help you find the right person for the job. We have access to plenty of professionals looking to advance their web design careers in part-time, full-time or freelance positions.
___________________________________
Artisan Talent is a Digital, Marketing and Creative Staffing Firm placing talent in jobs perfectly matched with their skills all over the US.  For available jobs, to submit your resume, or learn more about working with Artisan Talent, contact us here.
Connect with Us
Linked In| Glassdoor| Facebook | Twitter | Instagram | Pinterest