The Best Way to Engage Followers in Social Media
Using photos on your website as an interactive marketing strategy is now a basic part of creative marketing. It also is an excellent way to engage followers in social media. Not only can you promote your photos yourself via social media outlets, but the better goal is to have your visitors do that work for you. Have your photos tell a story and relate to your product or service, but also have your photos and associated text talk directly to your visitors.
 Why Are Photos Best?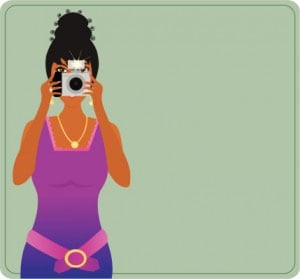 People who are social media users enjoy many outlets for their socialization activities. They may be active on Facebook, Linked In, Pinterest and many other websites where photos are a major enhancement to their posting activities. Recent research into social media use has determined that people prefer images to text, and are drawn in more by graphic images and photos. Besides this, one old favorite saying still is true, that a photograph is worth 1000 words.
Smaller images are simple to take and upload to your website. They also are simple for visitors to link to or copy and place as curated content on their own websites. When you do post photographs, remember that when you place anything on the Internet, it means that item is an open target for others to copy and use for their own purposes, despite copyright protections. You can attempt to thwart copying by using watermarks, but even those can be circumvented. Just assume that your photos will be copied, and in this case, that is exactly what you want done.
When someone else reposts your photos elsewhere, it is very important that you convince them to also give you credit by linking back to your website. They can share your photos on their social media websites and their link back to your website can bring you many new visitors at virtually no cost. Design your website with this in mind, and make it welcoming and personalized towards these new visitors. Invite comments that they can track responses to and also share with others.
Capture Website Visitors
A creative web designer is up-to-date on all the latest marketing trends that can be used on websites to draw in and capture website visitors. They know how to best optimize photos with text and keyword use in filenames and tags. They will have new insights and suggestions for you about how to improve your existing website to increase measurable results.
It is necessary to use new creative marketing techniques to promote your online presence. Consider the many notable photos and video clips that have gone viral on the internet. These images end up being viewed by multi-millions of viewers across the globe. If it is your image, just being "out there" can drive high numbers of new visitors to your website. Once they arrive, it is up to your interactive marketing strategy to get them involved, remain and revisit your website repeatedly. This is where having a professional web designer work with you can be of immense value.
Photos are the best way to engage followers in social media. It is a viral outreach to untold numbers of potential customers. Do this correctly, and get ready to see measurable results. That is the goal of any creative and interactive marketing strategy today.
Linda E is a freelance writer available on WriterAccess, a marketplace where clients and expert writers connect for assignments.
___________________________________
Artisan Talent is a Digital, Marketing and Creative Staffing Firm placing talent in jobs perfectly matched with their skills all over the US.  For available jobs, to submit your resume, or learn more about working with Artisan Talent, contact us here.
Connect with Us
Linked In| Glassdoor| Facebook | Twitter | Instagram | Pinterest