Common Mistakes Made by Professional Writers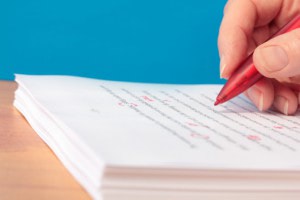 No matter how much your second grade teacher loved your short story about penguins, you may want to review top mistakes professional writers make before you take your writing online where anyone can find it. Whether you're starting a new blog, a new career or landed one of those lucrative jobs in copywriting, reviewing the errors of others helps to ensure you will not make them yourself.
Writing for yourself. While your heart-warming description of watching the rain slowly slither down the window pane may be groovy for your personal journal, it may not fare as well as part of an online article. Sure, you like your long, colorful descriptions. But you're not writing for yourself.
"Online, you're writing firstly for the reader and secondly for Google," Hubpages writer Simone Smith explains.
That means you want to give readers information they want, not what you want, and it also means to keep your audience in mind. Using $50 words for a readership that wants quick tips on something simple usually isn't going to cut it, just as using slang in a scholarly dissertation won't cut it, either.
Writing for Google involves using keywords and key phrases, clear headlines and other indicators that make the topic obvious. Be wary, however, as keyword stuffing can be as detrimental as using none at all. If you're sticking to the point, relevant keywords often show up naturally without any special maneuvering.
Burying the point. In journalism, it's called "burying the lead," with the lead being the first sentence or two that gives readers the entire gist of the article. The Internet by its very nature is geared toward instant gratification, and part of that gratification for the reader comes from knowing what the heck your article is about as quickly as possible.
Readers do not want to slog through seven paragraphs of descriptive prose about your dog's brindle fur to get to the flea prevention tips your headline promised. Nor do they care to hear about every relationship you've ever been in before they get to your dating tips. Little tidbits of key details can be useful, but long, drawn-out meandering passages are not.
Creating long, drawn-out meandering passages. Long, drawn-out anything on the Internet is never good. This applies to videos, those annoying click-through slide shows and especially writing. Short blocks of text broken up with photos, images, subheads and bullet points are much more attractive to readers than long, ominous-looking chunks. The more attractive and easy-to-digest you make your overall presentation, the more likely folks will actually check it out.
Getting readers to actually look at your online writing is a challenge within itself, but you can begin meeting that challenge pronto by avoiding these top mistakes. While Internet search tricks come and go, quality content that gives readers what they want sticks around virtually forever. Contact us today to learn more about professional writers.
Ryn G is a freelance writer available on WriterAccess, a marketplace where clients and expert writers connect for assignments.
___________________________________
Artisan Talent is a Digital, Marketing and Creative Staffing Firm placing talent in jobs perfectly matched with their skills all over the US.  For available jobs, to submit your resume, or learn more about working with Artisan Talent, contact us here.
Connect with Us
Linked In| Glassdoor| Facebook | Twitter | Instagram | Pinterest