Videographers shoot and edit video footage. That's obvious. But they may also wear other hats, including sound production, or film editing. Many times they're involved in post-production after the video has been shot. They may handle everything from interviewing to editing film, or they may just operate the camera itself. What is needed in a Videographer Job description?
The field of videography has changed a lot over the years as the technology has evolved into the digital space. What hasn't changed is that Videographers are strongly creative, with a terrific eye for catching action. You'll find videographers everywhere film is needed: at college basketball games or in a war zone, in an advertising agency or in your local nightly news studio.
What's It Like to Be a Video Pro?

Videographers do their work in the field in all kinds of weather. But they also work in the editing school. Some of them risk their lives every day capturing the horrible effects of disease, famine, natural disasters, and war.
While we've all taken amateur video of everything from stupid pet tricks to car crashes, a Videographer has made a profession out of telling stories and being a voyeur. These professionals are both creative and mechanical, and able to make a good living in some of our most popular venues, such as the movies and television.
Videographers capture or recreate life in such a way that its beauty and ugliness is captured forever through the camera lens.
Skills Needed to Be a Videographer
Videographers may be responsible for transporting or setting up this equipment, shooting, hauling it away, and then creating the movie or film clip.
Some typical responsibilities include:

Working with a

Creative Director

or collaborative team to create the film or video product

Figuring out what type of equipment to use

Cleaning and disassembling hardware

Setting up and tearing down cameras, audio recorders, lighting, microphones, and props

Calibrating and maintaining equipment

Doing small repairs on broken equipment

Preparing background film or "B" rolls as well as live feed

Troubleshoots problems with the equipment

Interviewing people and creating a film clip via editing raw footage

Working in the studio as part of a production team to edit film

Inserting closed captioning, graphics, or other on-screen text into a video

Adding computer graphics and special effects to a video
However, these tasks vary by type of Videographer. For example, a wedding Videographer might spend the day talking to the client and shooting the event while a Newspaper Videographer could don a flak jacket and dodge bullets while filming scenes of human crisis. While these two examples are at the extreme ends of this career path, both could be the responsibility of the person behind the camera.
While these are some of the tasks of the Videographer, what are the skills they really need to accomplish these activities?
Videographers needs the following characteristics:
Manual dexterity, physical mobility, and some physical strength/stamina

Bravery to get the camera shot in risky situations

Creativity and attention to detail

Ability to work under deadline pressure

Organization to manage their time efficiently

Ability to capture snippets of film and be able to edit it into a cohesive story

Flexibility and good listening skills

Enough patience to wait for the perfect shot

Energy and determination

Technical acumen to be able to operate, configure, set up, and fix video, audio, lighting, or other production equipment

Must know computerized tape editing software and equipment

Understanding of post-production techniques

Can work in a variety of digital venues with software to edit and finish film work

Passion

—

they have to be all about getting the shot
Videographers have a challenging job, no matter the venue they're working in. It's a very competitive field so to stand out it takes determination and a lot of hard work.
Suggested Software Proficiency
A Videographer must know both hardware, such as camera equipment, switching equipment, and digital editing equipment, and software for scripting and video editing.
Some of the software you may run into in the field includes:

Celtx, for video planning and scripting

Pinnacle Studio 16 Ultimate for video editing

The Adobe Creative Suite can be used for editing, scripting, or marketing a film

Corel VideoStudio Ultimate is a great tool to know

Or, for those that are Mac-obsessed, try iMovie or, for the pros, try Apple Final Cut Pro X

For balance, the PC-lovers will like Windows Movie Maker
Many of the software programs a Videographer will use will have multi-function capabilities for editing from several cameras simultaneously, motion tracking, 3D editing, and even keyword tagging.
But wait – there's more. We mentioned that knowing software and hardware is important, so we can't leave out some of the equipment a Videographer might need in addition to their camera. What about microphones and lighting in addition to the other software and hardware?
All of these skills are necessary to become a Videographer. It's an interesting and diverse role, but its main requirement is just one thing — to nail the shot in as few takes as possible.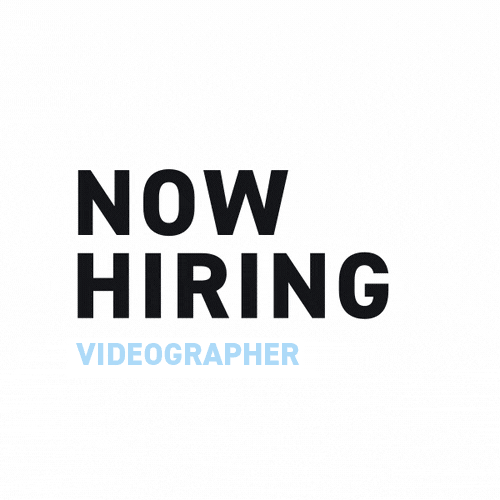 Find Your Videographer Job Description Here
There are dozens of Videographers to choose from out there. But Artisan Talent has already done the work of screening the best ones and they're waiting for you. Make the call. Start with a good Videographer Job description. We've built our expertise around matching your needs with the right creative talent to fit your goals. Artisan Talent can help you find the perfect match for your project. (click here to find talent).
If you're a Videographer, we take the hard work out of finding you the next gig. Call on us to talk with a talent representative about your skills. You can also view our creative employment agency's list of available opportunities or submit your resume (click here to find a job).