Not everyone is psyched about AI (especially around copyright infringement). But what if you could get paid to fix these issues and ensure that AI is compliant for the next generation? Now you can be a part of the solution. AI Ethicists are familiar with psychological, philosophical, and legal issues and most likely have a background in data science, philosophy, or a similar field. They work with AI Engineers to ensure AI delivers outputs that are consistent and compliant with human morality and Internet law. Other job titles for AI Ethicist may also include "AI Ethics Officer," "Chief Ethics Officer."
Some of the tasks an AI Ethicist is responsible for include:
Developing and implementing ethical guidelines and policies for AI development and deployment.
Conducting ethical impact assessments of AI systems to identify potential biases and unintended consequences.
Collaborating with cross-functional teams to integrate ethical considerations into the design and development of AI systems.
Advising on the ethical implications of AI-related decisions and providing guidance to decision-makers.
Staying up to date with the latest research and developments in AI ethics and contributing to the wider AI ethics community.
Working with legal and regulatory teams to ensure compliance with relevant laws and regulations regarding AI and ethics.
Engaging with stakeholders, including customers, partners, and the public, to ensure AI systems align with their values and expectations.
Developing and delivering training and educational materials on AI ethics for internal and external audiences.
Participating in interdisciplinary teams to develop solutions to complex ethical challenges related to AI.
Ensuring the responsible and ethical use of data in AI systems, including protecting the privacy and confidentiality of sensitive data.
SKILLS NEEDED:
A strong educational background is essential for AI Ethicists, such as a bachelor's degree in philosophy, ethics, computer science, or a related field. A master's degree or Ph.D in AI ethics or a related field may also be considered.
As AI Ethicists are vital to the future of AI in business in terms of its brand, reputation and growth, some of the skills needed to be most successful include:
Analytical Skills:
Critical and analytical thinking
Strategic thinking & problem solving
Process mapping & improvement
Research & consultation
Project management with DevOps teams to incorporate ethics safeguards into AI DevOps pipeline
Communication & Relationship Management Skills:
Active listening & impactful questioning
Communicating across disciplines
Emotional Intelligence
Negotiating, influencing and collaborating
Ability to adapt to different stakeholder needs and develop and maintain successful working relationships
Ability to build trust internally and externally
Initiative-taking
Along with an understanding of AI tools and technologies, AI Ethicists should generally have the following capabilities:
Experience with the philosophical, psychological, or sociological aspects of ethics
Regulatory, legal, and policy knowledge
An understanding of the business and the industry and the specific
AI ethical traps that exist
Knowing how to structure a business and a team in an ethical manner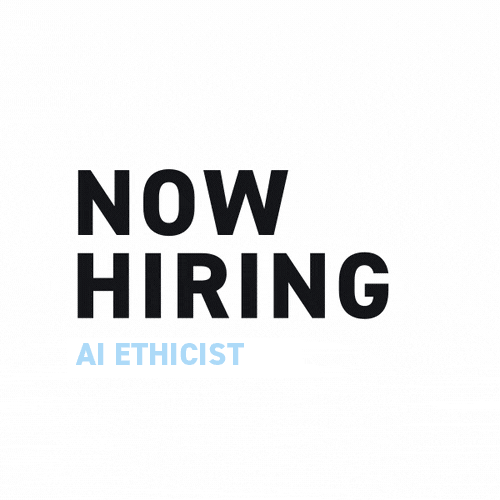 SOFTWARE PROFICIENCY NEEDED:
The software proficiency needed for AI Ethicists can vary depending on a range of factors. In some cases, knowledge and experience in areas such as machine learning, data science, and data visualization can contribute to the qualifications of an AI Ethicist. Proficiencies in project management software, and programming languages (such as Python, R, or SQL), may also be helpful.
Other AI Job descriptions:
AI DATA ENGINEER |  AI PRODUCT MANAGER (OR AI MACHINE MANAGER)
|  AI PROMPT ENGINEER (OR AI QUERY WRITER) | AI TRAINER
Sources:
AI Ethicist Job Duties
What does an AI Ethicist do? A guide for the why and the what and the how
Looking for an AI Ethicist? Good Luck
How to become an AI Ethicist
UNVEILING THE AI ETHICIST: SKILLS, ROLES, SALARY, AND QUALIFICATIONS