An AI Query Writer (sometimes also known as an AI prompt engineer) is responsible for crafting questions for generative AI and teaching the AI in question to respond and refine its answers through prompt generation. Depending on the company or brand you are working with, you'll help mold the voice and results to better suit your customers and the brand.
An AI Prompt Engineer's responsibilities might include:
Refining the AI you're working with to become more fluent in human ways of speaking.
Help align the language of AI to your company's voice and particular business needs.
Cataloging responses and reporting back to engineers and developers on which areas of intelligence are working and which areas need work.
Building a library of prompts, keywords and syntax guidelines for the best query results and make this library easy to use for users.
Craft tutorials and interactive tools for various audiences to help teach people about how to get the best results through AI queries.
Basic programming of small Python programs.
SKILLS THAT AI PROMPT ENGINEERS NEED:
AI Prompt Engineers will need a balance of "right" and "left" brain creativity—they'll have to be analytical problem solvers who also get excited about teaching and communicating their findings to others. Here are some skills that AI Prompt Engineers will need:
Fluent in English and deep knowledge of syntax and meaning of the language—an expert wordsmith.
Be familiar with big data and the industry as a whole.
Be a great self-starter, communicator and collaborator across all teams.
A love for teaching technical concepts (to both engineers and the lay person) and cataloging language structures.
Ongoing maintenance and troubleshooting of generative AI language.
A great problem-solver with analytical skills.
Great knowledge of data structures, data formats, and data modeling.
Ability to stay up-to-date on recent AI trends and the competitive landscape.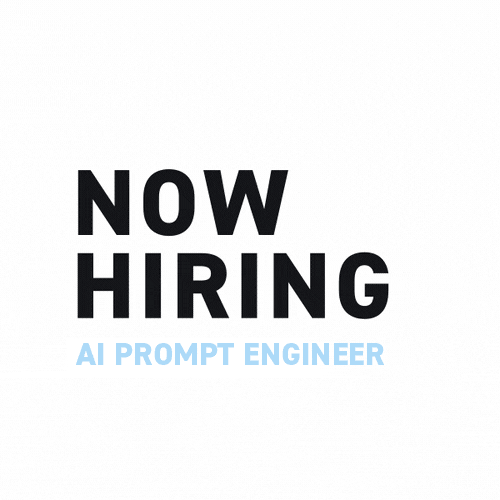 SUGGESTED SOFTWARE PROFICIENCY
While many people with English, Communications, or Library Science backgrounds may all apply to this job, it's helpful to take a few courses in Python and learn the basics of software engineering. This way you'll be able to stand out amongst the competition. If you're looking for a job as an AI Prompt Engineer, focus on boosting these areas of learning:
Software engineering experience is a plus, as is basic knowledge of Python or similar programs.
Learning to code is essential, but you do not have to be advanced.
Library Science degrees, Data Science degrees, or experience in similar research and cataloging fields are a huge plus.
Ability to write clear and specific instructions for NLP (Natural
Language Processing) models.
Experience with cataloging programs and presentation software.
Other AI Job descriptions:
AI DATA ENGINEER |  AI ETHICIST | AI PRODUCT MANAGER (OR AI MACHINE MANAGER) |  AI TRAINER
Sources:
https://www.cbsnews.com/news/ai-artificial-intelligence-chatgpt-jobs-prompt-engineer/
https://jobs.lever.co/Anthropic/e3cde481-d446-460f-b576-93cab67bd1ed
https://www.deeplearning.ai/resources/natural-language-processing/
https://www.ziprecruiter.com/ojob/xSHKyIqdQfXU0Rk0fB6fXQ.–MwHJIoCew?lvk=xSHKyIqdQfXU0Rk0fB6fXQ.–MwHJIoCew