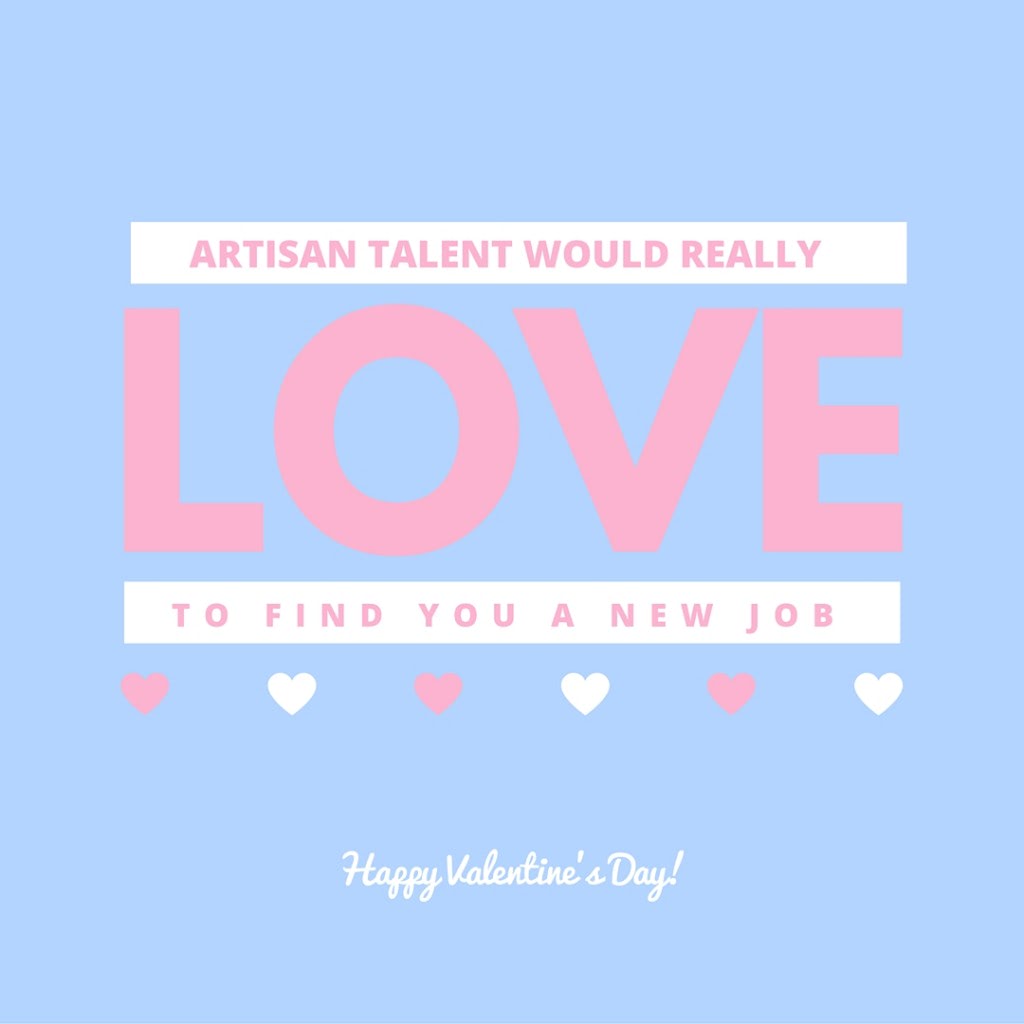 'Tis the season for love! So what better time to show off the reasons talents, clients, and YOU love staffing agencies? (Need to back up? Read "What Is A Creative Staffing Agency") Whether you're a talented designer, writer, or other creative looking for work or a company that needs help staffing up, here are 14 reasons to love your friendly, local* staffing agency. Grab a piece of chocolate, read through, and have a Happy Valentine's Day!
14 Reasons to LOVE Staffing Agencies
The Talent is Top Notch
At Artisan, we only work with the top talent in the country. Our designers, writers, presentation specialists, etc. have amazing portfolios and credentials.
Passive Job Candidates Are There
LinkedIn notes, some of the best candidates are "passive" and not actively combing help wanted ads. The best staffing agencies have long-standing relationships with their talent, no matter where they are in their careers, and can contact these "hidden gems" for you.
You Can Come Hungry
As you work through different opportunities and jobs, we encourage you to constantly update your portfolio and resume. Always keep putting your best and latest work at the forefront so that we are aware of your growing abilities you can be ready for unexpected opportunities.
We Actually KNOW Our Talent
We know them, we've interviewed them, we've seen their work and gotten feedback from their previous jobs. All of our talented professionals have had a full background check too. How's that for saving you some headaches?
The Cost/Benefit Ratio is Great
According to the Wall Street Journal, companies are taking nearly a month to find new employees that fit their needs—and as you know, time=money. You can save a lot of time and resources by relying on the agency to find you a pool of qualified, vetted candidates.
We Have Impartiality
Taking the time to understand corporate culture and then matching it to the right creative candidate is incredibly important to an office environment. A recruiter has a third-party view of your workplace and can assess which candidates will sink or swim in your unique business environment.
There Are Awards
Best of Staffing AND Best of Talent Satisfaction? Yup, we've won both.
We Specialize in "The Match"
The best matches in the employment world are those where both the needs of the client and the needs of the talent are closely synchronized. Clients can customize their talent search to designate what skills and experience they need, while our talent pool is able to look through opportunities that fit their needs too.
Less Wait Time
A digital and creative staffing agency can find you candidates with qualifications and talents that enable them to take the steps two at a time instead of getting stuck looking confused on the mezzanine.
No Question Too Small
Which candidate will balance the ability to meet company deadlines and work well in a team environment while still retaining their creative spark? A good recruiter can answer those questions.
Time Crunches Are No Problem
Short on time to replace that employee that quit in a fit or rage? Need a new job ASAP? Recruiters spend the majority of their time networking in order to match job candidates with the right career. Unlike human resource managers who are tasked with everything from new hire paperwork to training, staffing agencies focus on one thing: How to find you your next job or perfect employee.
Try Jobs Before You Buy
Our creative staffing agency may suggest job opportunities that are outside of your comfort zone, or ones you'd never considered before. Lisa Quast at Forbes says this gives you the opportunity to try on different "sizes" of jobs so you can find a good fit whether it's Full-time, Part-time, Temp-to-Perm, Freelance, or Gig.
Dirty Work? Done
Providing direct deposit, collecting out-of-pocket expenses on your behalf, keeping a record of your assignments, etc. While money is like time—there is never enough—creative staffing agencies can negotiate rates for you and help manage your assignments more efficiently.
We Live In Our Cities
How do we meet new talent and companies? We meet them. In person. Find your friendly Artisan Account Managers and Recruiters at various networking events, special presentations, speeches, workshops, and more.
*No matter where you live! Artisan has offices in New York, Chicago, Indianapolis, D.C., San Fran, LA, Portland, Boston, Miami, Seattle, Dallas and Denver, ! We place talent nationwide. Find out more here.
Let's Fall in Love!
Ready to make a job-company, company-employee love match?  Let superior freelance job agencies expand your influence and your bank account. Contact us today!
Other Posts You Might Like
Less Obvious Ways a Staffing Agency Can Help
Staffing Resolutions for a New Year
Artisan Talent Wins Best Of Staffing
Things Staffing Agencies are Thankful For
____________________________
Artisan Talent is a Digital and Creative Staffing Firm placing talent in jobs perfectly matched with their skills all over the US.  For available jobs, to submit your resume, or learn more about working with Artisan Talent, contact us here.
Connect with Us on Linked In| Glassdoor| Facebook | Twitter | Instagram | Pinterest
____________________________